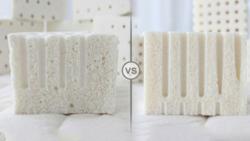 Denver, CO (PRWEB) May 07, 2013
One of the biggest questions facing those shopping for a new latex mattress is which type of latex to choose. Finding information out how Dunlop and Talalay latex differ and what these differences actually mean when it comes to beds is not an easy task. The latest release from Bed Ed seeks to compare the two processes and offer insight for consumers.
The article, "Talalay vs. Dunlop: Which Makes a Better Latex Mattress and Why", explains in detail the manufacturing processes of each type, how they compare on several dimensions, and ultimately which is likely to yield the best mattresses.
Bed Ed explains how the two terms describe methods of turning liquid latex into the foam-type material used in latex mattresses. The original process, Dunlop, involves pouring the froth into a mold, gelling, heating (also called vulcanizing), and then rinsing and drying. The newer Talalay process alters the steps to create a more controllable and consistent product. This process includes added phases of vacuum sealed molds, flash freezing, and several washes.
After discussing the technical differences, the article delves into how the procedural differences affect performance. Aspects covered include consistency, firmness, pressure relief, breathability, durability, and manufacturing costs.
The article points out that the vacuum and flash freezing processes allow for a greater range of firmnesses in Talalay without compromising the foam integrity. These steps also prevent particles from settling and creating inconsistent foams. Large, open, and consistently spaced calls in Talalay process latex contribute to improved breathability, greater durability, and improved elasticity for pressure relief.
Bed Ed also references statistics from Latex International, including that Talalay latex proves four times more breathable, three times more durable, and relieves pressure 33% better than Dunlop material. The article also touches on materials, making it clear that either manufacturing process can utilize both natural and synthetic latex and referring readers to a previous article on latex mattress ingredients for more information.
Ultimately, Bed Ed comes to the conclusion that Talalay latex mattresses offer the best option based on comfort and durability. From their past comparison of retailers, the blog suggests 100% natural Talalay latex mattresses from Astrabeds.com for those seeking recommendations, and reminds readers to place greater emphasis on what goes in to their mattress over the name or pricetag. The website also features several other helpful resources and guides designed to educate and aids shoppers in their search for better sleep.
BedEd.org is a mattress education blog dedicated to providing informational resources to shoppers. The blog features impartial assessments of mattress types, brands, and other sleep related products, developed via first party research, third party reviews, and expert research and opinion. In addition, readers receive useful sleep quality tips and news on the latest mattress developments.options.