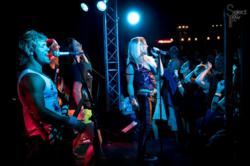 Springfield, MO (PRWEB) August 30, 2012
Annual competition "Springfield's Got Talent" is under new ownership. The Gig Bureau has announced it will be producing the event and re-branding it as "Get Your Gig On." The first event will be held in March of 2013 at the Ramada Oasis Hotel and Convention Center in Springfield, MO. The contest is for talent from all age groups and types of entertainment.
"Get Your Gig On" will be a talent competition aimed at helping entertainers on their journeys toward success. The Gig Bureau promises to provide judges that will be honest, courteous, objective and a little tough when needed in their critiques and evaluations.
From the point of registration to the final performances, "Get Your Gig On" will be a positive, professional experience for everyone involved.
"The goal is to discover the best talent both here in Springfield and beyond," says The Gig Bureau Co-Owner, Mark Steiner. "We are going to provide a venue where people can get on a stage, do what they do and hopefully convince the audience why they deserve to win."