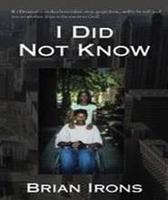 It's time for you to play your own game! Do not give your game to the power of drugs! Drugs will treat you like a basketball, and bounce much ignorance into your life.
St. Louis, Mo (PRWEB) July 31, 2010
The author, Brian Irons wrote the book, "I Did Not Know". The "I Did Not Know" book explains why athletes and non-athletes should not use and abuse drugs. Hopefully, after reading the "I Did Not Know" book and learning about Brian Irons drug using experiences, many athletes will take heed to them.
Brian Irons, who was a well-known gifted and talented athlete in the St. Louis City area, decided to smoke marijuana with the high school basketball teammates. He believes, marijuana is the reason for his drug using elevation. Never in a million years did Brian believe that Cocaine, Heroin, Dippers, Pre-mo, Valiums, Tylenol 3's & 4's, PCP, Codeine Pills, Syrup, or any other chemical controlled substance would be used by him. Not only that, but Brian never realized his athletic career was soon to be destroyed.
Brian Irons earned 2 M.V.P. trophies as a pitcher; 2 M.V.P. trophies as a quarterback. He signed his name on four high school students' books and papers, after watching him play 5 straight games of basketball. First 8 street fights were knockdowns. First place trophy in a dancing contest. Wow, Brian Irons was a very talented athlete.
One day, as Brian Irons was getting high, his heart stopped beating for 11 minutes. He then went into a coma and stayed in it for ten days. Due to the heart stop and coma experience, Brian's brain suffered an injury. Not only that, but the nerves in Brian's left leg suffered damage. Wow, Brian kept on using and abusing drugs, until drugs used and abused him.
After experiencing this drug abusing conflict, Brian turns to God for help. God's word explains how sin empowers people to try drugs in the first place. Brian went to God, and the sins that had triggered off all of his drug using experiences, were forgiven. God rehabbed Brian's life time after time. Brian Irons message to the world is this; "Do not give your life to chemical control substances."
Book Title: I Did Not Know
Author: Brian Irons
Publication date: Aug. 12, 2007
Price: $18.95
Order book or donate through PayPal: http://www.drugfreedreams.com
###