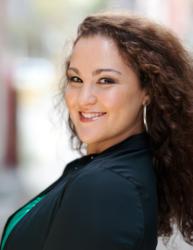 "Talent INC Canada consistently seeks up and coming individuals in an effort to help them blossom, while also offering a unique opportunity for young performers to work with first class artists." ~ John Stevens, Talent INC Canada

Toronto, ON, Canada (PRWEB) January 22, 2013
Deanna is a great asset to Talent INC Canada and their clients due to her own individual network of professionals.
"Deanna is someone who is well respected in many arenas of the performing arts. Talent INC Canada consistently seeks up and coming individuals in an effort to help them blossom, while also offering a unique opportunity for young performers to work with first class artists." Says John Stevens of Talent INC Canada.
Deanna L. Palazzo is a graduate of the University of Guelph with an Honors Degree in English and Theatre Studies. She is also one of the founding members of Pivotal(Arts) Theatre Company Inc., and currently serves as the Artistic Producer. Notable stage acting credits with Pivotal(Arts) include: "Off the Hook," "Act 2," "Cookies and Ashes," "Crime Scene," "Art vs. Love vs. Life" and "A Crack in the Ceiling." The latter of which was also performed at the Toronto Fringe Festival. She also performed in "Twisted Elegance" and "The Dinner" co-produced by Pivotal(Arts) Theatre Company Inc and Upstage Productions.
Deanna also serves as the Artistic Director of Impulsive Entertainment (http://www.impulsiveent.com) producing weekly comedy shows at the Comedy Bar. She has also produced the Tim Sims Encouragement Fund's Fresh Meat and Cream of Comedy Showcases for the last three years.
As a graduate of the Second City Conservatory Program, she can be seen performing with her sketch troupe Short Form Richards all over Toronto. As an improviser she has trained with the aforementioned Second City, taken classes and workshops with the National Theatre of the World, Shari Hollett & Chris Earle and Impatient Theatre. She has also participated in Globehead and Mortal Komedy with the Bad Dog Theatre. She was also part of the improv troupe The Sequels under the direction of Colin Munch for almost 2 years.
Deanna has also appeared in various independent films and web series pilots including: "I Choose Chaos" (Kevin Lane), "Eyes Beyond" (Spotlight Nation Studios) and "Dr. Zack" (Yilmaz Vurucu).
Classes offered will begin in February of 2013 and registration can be made by calling Talent INC Canada at (647)748-7200.