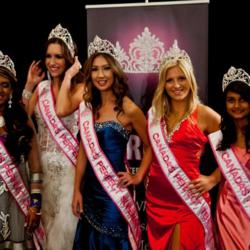 "The ladies came in with impressive biographies, and answered rounds of questions with such maturity and intellect. Some even became emotional when talking about their interests" ~ John Stevens, Talent INC Canada
Toronto, ON (PRWEB) August 30, 2012
Canada's Perfect Pageant celebrated their premiere event this past weekend at the Sheraton Hotel in Toronto. Special Guests included: Michelle Moore, the very first America's Perfect Woman 2011, celebrity photographer and beauty editor for VIE Magazine, Korby Banner, internationally acclaimed makeup artist, David Goviea, Top Pageant Circuit Judge, David Houze and Talent INC Canada's very own John Stevens.
John is no stranger to judging events of this nature. He has had to opportunity to work with talent from coast to coast across North America, and in the United Kingdom as well. However, this was his first pageant. When asked why he had accepted Pageant Director, Jacenta Barel's invitation, John had this to say, "It only took a matter of minutes after meeting with Jacenta to fall head over heels for her vision. Canada's Perfect Pageant focusses on teaching young women, teens and adults about community outreach, confidence, and entrepreneurship"
After meeting the young women during the interviews, John along with the entire panel of judges was convinced that each of them had enormous drive, and compassion. "The ladies came in with impressive biographies, and answered rounds of questions with such maturity and intellect. Some even became emotional when talking about their interests. The passion these ladies have for their causes, and interests are simply remarkable." Stevens added.
Canada's Perfect 2013 National Titleholders and Awards winners were announced live on stage by local radio personality, Will Nash. Congratulations Jr. Teen Judy Thakoordeen, Teen Sabrina Desire Dament, Miss Alicia Angus, Supermodel Jodi Jahnke, and Covergirl Malti Saini. These 6 gorgeous ladies will represent Canada at the International Pageant in Orlando, Florida next August 5-11, 2013.
In addition to the beautiful girls who will be continuing on to the international level, there were several special awards as well. Victoria Trinetti was just named Miss Photogenic and Dayna Child was named Miss Congeniality. Judy Thakoordeen won the Talent INC Canada Award of Excellence, and will receive private coaching in the entertainment industry, and an opportunity to showcase her talents at the very first Canadian National Talent Conference.
ABOUT TALENT INC. CANADA
Talent INC and Talent INC (Canada) are specialized training programs that offer not only the tools to succeed but the opportunity to use those skills to further their career through their international marketing network. Founded in 2001, Talent INC has kick-started the careers of many young performers. They offer Summer Camps and an impressive list of courses for both adult and young enthusiasts. They also hold their highly acclaimed National Conference in Orlando. All of the workshops are taught by some of the area's most successful actors, models and vocalists.
ABOUT CANADA'S PERFECT PAGEANT
Canada's Perfect Pageants is designed for all women, (ages Jr. Teen 13-15, Teen 16-19, Miss 20-29, Woman 30-65) from all across Canada, who love the stage, want to express their person style and personality and hold a national title. They will have the opportunity to compete in the International Finals in Florida and the chance to carry this new found celebrity status to a professional modeling or acting career, as modeling agencies will be in attendance. Create exciting memories, make new friendships with young women from around the country, and experience a worthwhile, organized event. Canada's Perfect Pageants is an outlet for you to achieve success and realize your dreams!
The system is searching for beautiful, articulate, young ladies and women who turn heads in a crowded room, maybe for her beauty, articulation, style, dedication to community service, humor, talent, or that indescribable "it" factor. Canada's Perfect Pageants is looking for beauty, communication skills, and grace. It is that simple, are you Canada's Perfect Jr Teen, Teen, Miss or Woman?
The system welcomes young ladies and women who have competed in all major pageant systems or who have never stepped on a pageant stage or runway before. What sets Canada's Perfect Pageants apart from other pageants? We allow the individual to create her reign, whether it be beauty driven, community service, talent, spokesperson, or print/runway you define your "own" perfection.