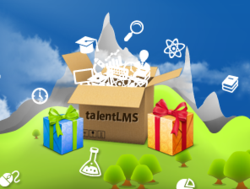 TalentLMS is a great service that makes it easy to create and administer courses that are attractive and convenient for students using computers or mobile devices
New Castle, DE & Barcelona, Spain (PRWEB) January 16, 2013
TalentLMS (Learning Management System) is a super-easy, cloud-based learning platform to train people and customers. It is suited to companies that offer online training to employees or customers and need a platform that's easy to set up and easy for students to access.
TalentLMS allows importing material for courses from YouTube, Slideshare, Wikipedia and other sites. It is cloud-based and the courses function seamlessly on mobile devices as well as on computers. It provides analytics, student test assessment and certifications on completion of tests.
According to GetApp, what makes TalentLMS stand out from other LMS providers is the ease of preparing, setting up and administering online courses. It also offers a free entry-level option for five users and ten courses requiring no credit card for sign up.
TalentLMS achieved the following ratings:
Overall: 9.5/10
Ease of use 5/5
Features 5/5
Value 5/5
Ease of deployment 4/5
"TalentLMS is a great service that makes it easy to create and administer courses that are attractive and convenient for students using computers or mobile devices," said the GetApp reviewer.
"In TalentLMS we revisit and rethink everything around an LMS, from how to make it super-easy to start with, to creating courses in a few minutes, optimizing the user experience, maximizing the learning value and making it affordable for small businesses. We improved and simplified all aspects of the equation to turn eLearning from a no-go to a big YES," said Athanasios Papagelis, Founder and CTO of Epignosis.
To read the full review on GetApp visit:
http://www.getapp.com/blog/talentlms-review/
To test drive and deploy TalentLMS for free, please visit:
http://www.getapp.com/talentlms-application
About TalentLMS
Epignosis Ltd, vendor of eFronteFront and TalentLMS, is headquartered in the United States, with a global network of VAR partners in more than 60 countries. Fueling the learning revolution, Epignosis launched TalentLMS in 2012 in a quest to democratize learning and make best-of-breed learning technologies accessible to all small and medium-sized organizations.
To learn more, visit http://www.talentlms.com
About GetApp
GetApp is the largest independent online marketplace that helps small to mid-sized businesses and startups discover, evaluate and manage the perfect cloud business apps for their needs. Its mission is to support millions of users in their "best app" research with comprehensive directories, interactive search tools, side-by-side comparison tables, user reviews and app evaluation resources.
In addition, GetApp serves as a global online marketing channel for thousands of cloud business application developers. GetApp operates primarily in North America and the U.K. It is privately owned and backed by Nauta Capital.