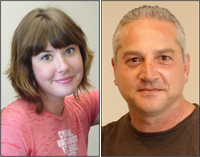 Sam & Suzy in the Morning
Los Angeles, CA (PRWEB) August 20, 2008
Two weeks after LA Talk Radio (latalkradio.com) launched its new morning talk show "Sam & Suzy in the Morning," the program's popularity has grown dramatically, successfully drawing new listeners to its open, lighthearted format. The new show brings funny, relevant, and emotional entertainment to listeners searching for fresh radio content.
The morning radio show's personalities, Sam Hasson, founder of LA Talk Radio, and Suzy Raleigh, a vibrant young newcomer, broadcast their two-hour daily show from a 36th floor studio in Downtown Los Angeles, and promise they will talk about anything and say anything.
"This is Internet radio," says Sam, who built the radio station in less than thirty days and has seen it grow quickly since its February 4, 2008, launch. "We can say what we want." This also happens to be his station's slogan. "We talk about ourselves, our lives, sex, gossip, LA and Hollywood, sex, news, and anything else our conversations lead us to," Sam adds.
Suzy, who started a career in modeling and acting at a young age, brings youth and energy to the show that perfectly complement Sam's experience and wisdom. The show's open format allows the chemistry between the two personalities to run wild, and draw listeners into their circle.
LA Talk Radio is the brainchild of entrepreneur Sam Hasson, who has always had a passion for radio with no experience to land any on-air gig. In December 2007, Sam stumbled upon the idea of a talk radio station, and realized his opportunity to finally host his own show by starting his own "real" radio station, complete with regular daily variety shows and entertaining weekly programs.
In contrast to other Internet radio talk stations, which only allow one to host a radio show by phone (yecch!), LA Talk Radio provides to its hosts a professional environment from which to broadcast their shows to the world. Hosts outside Los Angeles easily broadcast their shows live as though they were in the studio.
Listeners who miss the live broadcast can download any of the show archives to their computers and listen at the leisure. "The show has a much longer life when it's available to listen to long after it was broadcast live," Sam explains.
"We broadcast at three times the audio quality of other stations," Sam brags of his station's CD-quality sound for its live streams and archives. "I've tired of the poor audio quality that plagues Internet radio," Sam adds, "and I want to change that, because the listening experience matters to me."
About his station, Sam says that in the process of realizing his dream, by allowing anyone with a good concept and friendly delivery to host their own radio show, he has been helping others realize theirs, too.
###