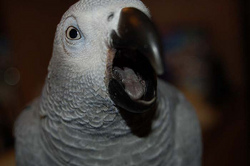 Spokane, WA (PRWEB) October 13, 2009
Birdtricks.com has declared they will be holding a contest and awarding $300, $200, and $100 cash prizes to the best three videos submitted of parrots talking. Does your bird call your cat, mimic you singing in the shower, or tell you off? Well now's the chance to capitalize on that.
Every video entered into the contest will be published on our newly updated parrot training blog where anyone can vote on their favorite video.
Anyone interested in publishing a video of their parrot talking, singing, or whatever actually is welcome to visit the blog and either upload the video or send in the URL if it's already posted somewhere on the web.
There is no fee to join this contest and is open to parrots everywhere! Contestants are encouraged to get their friends, family, and neighbors to join the fun by casting their vote for their favorite parrot video! Feel free to use sites like, Twitter, Facebook, and Myspace to promote your talking parrot!
For complete rules and information on how to enter this Talking Parrot Contest click here.
Any contestant who submits a picture for this contest of a parrot that is NOT theirs, without signed permission from the original birds owner will be disqualified from the contest.
Birdtricks.com was established in 2003 with the goal of helping parrot owners around the world learn how to build better relationships with their pet parrots. We help thousands of people each year. It is our hope that our parrot talking contest will be a fun way to expose our feathered friends to the world and show everyone what exactly they're capable of. Best of luck.
###