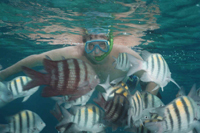 Mount Kisco, NY (Vocus) October 25, 2009
Paul Gonzalez brings thirty-five years of professional experience from his radio program and media appearances. For twenty-three years, he was a top rated personality on WFLA in Tampa, followed by a top rated talk-show on legendary WSB in Atlanta. From irreverent to serious, passionate to playful, the Paul Gonzalez Show is for people who love to be informed and entertained.
During his career, Paul interviewed some of the most notable people of our time, including former President Jimmy Carter. One of Paul's special interests is helping people achieve optimal health, and plans are underway for a special program dealing with alternative medicine. In the past he interviewed Dr. Robert Atkins, creator of the Atkin's Diet, and Dr. Earl Mindell, who authored over 45 books on health and wellness.
In this compelling program listeners will learn and be able to call in to discuss:

The insights of Paul Gonzalez from his long history as a talk show host and wide variety of interesting, informative guests on alternative medicine
The current condition and state of degenerative diseases like arthritis and their relation to diet
Controversies and opinions associated with the FDA
Listeners are welcome to join the conversation during the show by calling (866) 472-5792. Be sure to tune into the live, Internet talk radio show, Kiss Your Life Hello on Wednesday at 7 AM PT / 10 am ET on VoiceAmerica Health & Wellness Channel. Log on to Listen: Voice of America. Missed the Live Show? Past episodes are available on demand and podcast ready.
About Kiss Your Life Hello
Kiss Your Life Hello is a provocative internet talk show offering choices and focusing on solutions to all of life's health challenges in today's complicated world. Kiss Your Life Hello is a show about relationships...from personal relationships to health, business, family and love. Each hour we will be presenting the most up-to-date information on all aspects of mind, body, and spirit wellness. Kiss Your Life Hello
About Essence of Life
Essence of Life, distributes JIVA products, an evidence based and medically sound line of nutritional supplements that are carefully formulated according to scientific guidelines. Products are available to the public through http://www.jivasupplements.org and natural health food stores nationwide [JIVA Essence of Life]
###