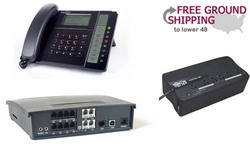 We're very excited to be working with Jackrabbit Microware
Poway, CA (Vocus) June 8, 2010
Jackrabbit Microware now offers three ready-to-use TalkSwitch phone system packages in the Main Showroom of their website, jackrabbit.com. The 2-incoming line, 4-incoming line, and 8-incoming line digital telephone systems all feature professional-grade hardware and software from long-time telecommunications vendor TalkSwitch, with whom Jackrabbit Microware is an authorized partner.
The telephone system packages available at jackrabbit.com are intended for small businesses that have little or no access to local technical expertise. They offer all of the high-level features that TalkSwitch systems are known for, including voicemail-to-email and call forwarding to cell phones, and they are completely configured, optimized, tested, and customized for the specific customer before being shipped to the customer's office.
According to Alex Lesberg, V.P. and Senior Consultant at jackrabbit.com, "Purchasing one of our ready-to-use business phone packages saves a small business time, grief, and money by completely eliminating the complexity of configuring the system. Right out of the box, they have a stable, professionally-prepared, upgradeable platform that allows them to be productive immediately."
"We're very excited to be working with Jackrabbit Microware," said Jan Scheeren, President and CEO, TalkSwitch. "Their innovative approach to preconfiguring our phone systems for their customers makes them extremely valuable to small businesses around the country."
These office starter systems include the main TalkSwitch box, one TalkSwitch IP phone, and an uninterruptible power supply that filters the incoming AC power and protects the equipment. Additional desktop and cordless phones are available. The hardware products are backed by the manufacturers' warranties, and Jackrabbit Microware supports the packages via e-mail, toll-free phone support, and a liberal 7-day return policy.
These new digital phone system packages, like all of the ready-to-use packages available at jackrabbit.com, present a new, cost effective, all-inclusive way to purchase small business technology solutions by significantly reducing the need for on-site technical expertise.
About jackrabbit.com
Jackrabbit.com is a monthly on-line publication and sales website from Jackrabbit Microware, a San Diego, California-based technology consulting and integration company founded in 1982. This website focuses on the essential technology needs of office-based and home-based businesses with 1 to 50 employees. It provides knowledge and insight to help them make informed buying decisions, and it offers them an array of complete, high quality, fully configured, optimized, personalized, ready-to-use technology packages.
For more information, please visit http://jackrabbit.com or call toll free at 1.800.444.9923.
About TalkSwitch
TalkSwitch® is the leading developer of owner-friendly™ phone systems for small and multi-location businesses. TalkSwitch has sold over 35,000 phone systems that small businesses rely on every day. With a growing global network of resellers, distributors and partners, TalkSwitch fully hybrid phone systems are changing the way small businesses communicate. For more information, please call toll free in the United States and Canada at 1.888.332.9322.
# # #