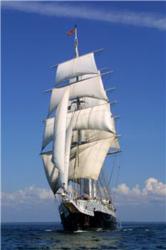 (PRWEB UK) 11 June 2011
This summer the Jubilee Sailing Trust (JST), the UK-based international sailing charity that owns and operates two tall ships, is on the hunt for young people aged 16-25 and of all physical abilities to take part in a special EU Exchange – a voyage which is subsidised by the EU Youth in Action Programme. Youth in Action promotes cultural exchanges to develop relations between young European people. The aim of this voyage is to bring together young people from the UK, Ireland, the Netherlands, Belgium and France, in the challenging environment of sailing a tall ship- to work and play together and to learn about the similarities and differences between countries and hopefully to make life-long friendships.
This special EU Exchange voyage is being organized by the JST together with the Dutch Sail Training Association Netherlands and At Sea Sail Training. The voyage will be on board the Lord Nelson one of JST' s two unique tall ships which have been specially designed and built to enable able-bodied and disabled people to sail side-by-side as equals. Facilities on board include flat wide decks for ease of movement around the ships, wheelchair lifts between deck levels, a hearing loop, a speaking compass and the option for joystick steering or the usual ship's wheel, but with hydraulic power-assisted steering.
The voyage will last 13 days, departing from Aberdeen on Saturday 30 July 2011, continuing to Amsterdam, and ending in Hartlepool on Friday 12 August 2011. The ship will stay in Amsterdam overnight and there will be an opportunity to explore this capital city and a special programme with a nautical theme will be organized by the participants from the Netherlands. Depending on the weather, wind and tides, the ship may visit another port but this will be decided by the captain along the way.
At sea you will be divided into watches (teams) of mixed nationalities. Under the guidance and supervision of the professional crew and the watch leaders - who are experienced members of the voyage crew - the watches take turns to run the ship for periods during the day and night. You will learn to set the sails, to steer the vessel and to help cook the meals and clean to keep her 'ship shape'.
Price of the voyage: €600
If you would like to take part in this exciting international voyage or want further information email: Josephine(at)jst.org.uk
Notes to Editors:

The Jubilee Sailing Trust (JST) was established in 1978 and operates under the patronage of HRH The Duke of York. The aim of the charity is to promote integration between able bodied and physically disabled men and women through the adventure of tall ship sailing.
The JST has been in operation for over 30 years and in that time has taken over 36,000 people to sea including more than 14,000 people with physical disabilities and 5000 wheelchair users. LORD NELSON and TENACIOUS have many special facilities that enable disabled crewmembers to take an active part in the running of the ship. Facilities on board include wide decks for wheelchair users, a speaking compass to enable blind people to helm the ship, power assisted hydraulic steering for those with limited strength and much more.
Everyone on board the ship has a vital role to play irrespective of ability, disability, age or gender. The success of each voyage depends on teamwork and working with individuals' strengths, not weaknesses. For many people sailing with the JST has been a life changing experience, for others simply a fantastic adventure holiday.
The JST website can be found at http://www.jst.org.uk. Keep updated with life onboard with our daily web reports, emailed everyday from LORD NELSON and TENACIOUS.
The Jubilee Sailing Trust is part of Holidays For All - a group of the UK's leading disability charities and specialist tour companies working together to promote equality, accessible holidays and flexibility for disabled and visually impaired holiday makers.
For more information, photographs, testimonials and stories please contact the JST Press Office on 023 8044 9108 or email: pressoffice(at)jst.org.uk
###