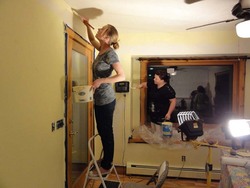 While many companies are finding ways to cut back, the management at TallGrass decided to take care of its team, now more than ever
Evergreen, CO (Vocus) April 20, 2010
The grand unveiling was scheduled for 7:30 a.m. and the crime scene tape was ready to be ripped from the door. It came off on time and without a hitch but, only a few hours earlier, the cleaning crew was still at it, sweeping up, clearing away, and getting the remodeled TallGrass team's combination kitchen-break room ready for its debut.
Gail Ridings, owner of TallGrass Aveda Spa and Salon in Evergreen, Colorado, looked the recession in the face and turned the numbers around. "While many companies are finding ways to cut back, the management at TallGrass decided to take care of its team, now more than ever," she said. "As a luxury day spa and a profitable business, we are always concerned with the comfort and pleasure of our guests and our bottom line, too. But it's also important to let our staff know that we care for them. They're the ones who help us meet our goals." So, with a small budget and a big volunteer effort, the kitchen-break room transformation was begun.
A volunteer team of eight staff members planned and executed the makeover in just six weeks, working with a $1,000 budget that covered the construction of a barrier wall between the break room and the catering kitchen, a refinished window seat with the company's mission statement, "Our Mission is to Awe and Inspire," applied to the window above, and everything else brand, spanking, sparkling new -- paint, refrigerator, chairs, flat screen monitor with a cordless mouse, mailbox cabinet, calendar with staff birthdays, VIP board, and photos of each of the 88 staff who work at TallGrass. The bouquets of flowers were an added touch supplied by Ms. Ridings.
The response has been positive. "At first, people couldn't believe it," says Stacey Jones, Operations Manager. "They wandered around bewildered, wondering what happened to their old kitchen." The flat screen monitor was a big hit because it modernized the way staff members can check their schedules. The break room is their place to hang out, share goals and inspirational quotes for the day, and catch up with each other. The employee phone is there, too. But, the number one priority is as a place to sit down and eat. "It's more relaxing, there's more space, it's clean and refreshing," says Ms. Jones. "TallGrass guests never see the break room. It's just for our staff and that feels good."
TallGrass Aveda Spa and Salon celebrates its 15th anniversary in 2010. The spa caters to guests from the metro Denver area, nearby foothills communities and visitors to the Rocky Mountain west. It offers a full service menu of massages, facials, body treatments, nail and hair care, along with boutique shopping and catered lunches. Located in a beautiful mountain meadow in the foothills community of Evergreen, Colorado, TallGrass is a day spa that feels like a resort. For more information, please visit TallGrass Aveda Spa and Salon or call 303-670-4444.
# # #