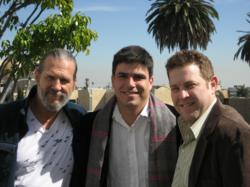 "He's one of the very few artists in his metier, which is titles, who receives credit for his titles. He is a true artist"-- Angelica Huston
Wichita, Kansas (PRWEB) September 05, 2012
The tenth annual Tallgrass Film Festival will be full of unexpected, "stubbornly independent" surprises, beginning with its Opening Night Gala, presented by Fidelity Bank, featuring the U.S. premiere of PABLO, October 18 at the historic Orpheum Theatre. The gala begins at 7:45 p.m. and will be followed by a Q&A with Producer Jeremy Goldscheider and Design and Motion Graphics artists Luis Freddy Morales and Marcela Perdomo, and opening night after party. Tickets for the Opening Night Gala are $25 and will go on sale October 1.
PABLO, which premiered worldwide this year at the International Film Festival Rotterdam, is a feature length documentary that blends animation, motion graphics and film clips to tell the story of visual artist and designer, Pablo Ferro. The film centers around Ferro's influence as a counter-cultural artist of the sixties and around the legacy this visual artist has created for contemporary audiences. Ferro is best known for creating legendary title sequences for such films as DR. STRANGELOVE, A CLOCKWORK ORANGE, MEN IN BLACK, GOOD WILL HUNTING, and L.A. CONFIDENTIAL.
"I am, along with the PABLO filmmaking team, excited and honored to premiere PABLO at the 2012 Tallgrass Film Festival," said Producer Jeremy Goldscheider. "Our film portrays a truly independent artist whose career and work falls very much in line with Tallgrass' "Stubbornly Independent" motto. Premiering PABLO in Wichita, Kansas, is very Pablo Ferro-esque - out of the box!"
Narrated by Jeff Bridges, PABLO features interviews with Angelica Huston, Andy Garcia, Stan Lee, Jon Voight, Norman Jewison, Jonathan Demme, George Segal, Leonard Maltin and others who try pinning down Pablo's elusive and ever- changing chameleonic persona. In his own words, Pablo describes his "roller coaster life" -- from the fields of Cuba to New York's Hells Kitchen, from young poor immigrant to hot Madison Avenue commercial director, and from one of the most innovative multi-media artists to the wrong end of a gun. Pablo is able to put his life back together to become one of the most recognized names in cinema title art and design. The film is distributed by Shoreline Entertainment.
"We are incredibly honored to be screening the US Premiere of PABLO," said Lela Meadow-Conner, Executive Director of Tallgrass Film Association. "It's a truly creative piece about a truly 'stubbornly independent' man. It gives us a glimpse into the eccentric life of Pablo Ferro, and showcases the work of a real industry pioneer whose work is instantly recognizable."
"He's one of the very few artists in his metier, which is titles, who receives credit for his titles. He is a true artist"-- Angelica Huston
"Genius"-- Stanley Kubrick
Hosting the 2012 Tallgrass visiting filmmakers is made possible by a grant from the [Academy of Motion Picture Arts and Sciences in support of the Filmmaker Hospitality Program for the 10th annual Tallgrass Film Festival, and by The Hotel At Waterwalk.
ABOUT TALLGRASS FILM FESTIVAL: The 10th Annual Tallgrass Film Festival will be held in and around downtown Wichita, Kansas, October 18 - 21, 2012. The festival showcases more than 120 films from around the world and is the largest independent film festival in the state of Kansas. The four-day event has become a hallmark of the city's cultural landscape and the festival is internationally renowned or its world-class cinematic programming. Full festival lineup will be announced September 28, 2012. Box office will open online October 1, 2012, at http://www.tallgrassfilmfest.com
Major festival sponsors include Clear Channel Radio Wichita, Clear Channel Outdoor, Go Wichita, City of Wichita, Howerton + White Interactive, KMUW 89.1, LivingSound Home, Integrated Media Group, Consolidated Equities Trust, Wichita Downtown Development Corporation and the Hotel At Waterwalk.
###
Press Contact:
Jessy Clonts
(510) 333-6956
Jessy@TallgrassFilmFest.com