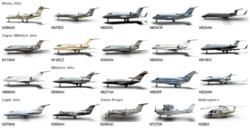 The Company operates one of the most diverse fleets in private aviation.
New York, NY (Vocus/PRWEB) March 22, 2011
Private jet operator, Talon Air, continues its expansion following the two strongest quarters in the company's 10 year history. The company credits its success to fundamental changes in the industry including the most recent increase in charter activity. Talon has literally doubled in size with its brand new hangar and office complex which will be fully operational by June 1st. The completion of Talon Air's second hangar located at Republic Airport in Farmingdale New York will provide 100,000 sq ft of first class hangar and office space. As a result of this substantial growth, the company has increased its pilot roster by more than 20 percent since the end of last year.
"By expanding our pilot group, we are creating new jobs in all departments," said Jason Sanders, Senior Vice President. "Talon Air is an exciting place to work and we are attracting some of the best talent in the industry."
In order to meet their growing charter demand Talon, anticipates the addition of several large cabin aircraft in the fourth quarter of 2011. The fleet shall continue to grow strategically through aircraft management. The managed aircraft supplement the core fleet and provide high-quality jets for its broad base of jet charter customers. Aircraft management is an attractive option for corporations and aircraft owners who want to generate revenue when the aircraft is not being used by them in order to reduce the overall cost of aircraft ownership.
To learn more about Talon's aircraft management programs or to request a private charter quote on this aircraft, visit http://www.TalonAirJets.com or call 631.753.8881.
About Talon Air, Inc.
Since 2001, Talon Air has delivered an unparalleled level of consistency and customer service to the luxury private jet charter market. Today, Talon has emerged as New York's fastest growing full service private jet charter operator. Based at Republic Airport (FRG) in Farmingdale, New York, Talon's fleet of business jets operate from its state of the art 100,000-sq-ft hangar and office complex. The Company operates one of the most diverse fleets in private aviation, which includes 10 of the most popular business jets in the world. The fleet includes the Sikorsky 76B Helicopter, Cessna 208B Grand Caravan, King Air B200, Hawker 400XP, Hawker 800XP, Hawker 4000, Challenger 300, Legacy 600, Challenger 604 and Gulfstream IVSP private aircraft. As a Wyvern Wingman, ARG/US Platinum and an IS-BAO registered company Talon provides the safest and most secure private jet executive travel currently available in the industry. Talon Air also offers turnkey aircraft management, on-demand charter services and Part 145 aircraft maintenance. More information is available by calling 631.753.8881 or by visiting http://www.TalonAirJets.com
###