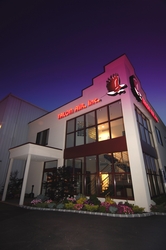 Following the issuance of the repair station certification our licensed A&P mechanics dived into a 72 month Gulfstream IV inspection", said Jason Figarsky Director of Maintenance. "There is no time like the present…
Farmingdale, NY (PRWEB) March 29, 2010
Talon Air, Inc., a global leader in aircraft management and luxury private air charter, expands its services after receiving FAA certification of its FAR Part 145 Repair Station DBA Talon Air Maintenance Services, LLC., CRS # 1TLR581B. The repair station offers Talon's previously in-house maintenance services to the public. The new facility will focus on repairs, inspections and avionics installations for all classes of private aircraft.
"Following the issuance of the repair station certification our licensed A&P mechanics dived into a 72 month Gulfstream IV inspection", said Jason Figarsky Director of Maintenance. "There is no time like the present…"
Talon Air, Inc. recently completed the construction of their state of the art 95,000 sq ft hangar and office complex and has converted its existing 40,000 sq ft hangar into a 30,000 sq ft maintenance facility with 10,000 sq ft of maintenance shops and office space. Additionally, a battery shop will be available to repair, replace or charge main and emergency batteries on Hawker Beechcraft products and other aircraft.
"Despite the economic downturn, it needed to be the right time for the company to expand the business" said Jason Sanders, Senior Vice President. "We have continued to grow steadily and the repair station is the logical next step to support that growth."
Talon's AOG Go-Team will provide rapid mobile response directly to an aircraft anywhere in the Northeast with the parts and tools necessary to return an aircraft to service with minimal delay. Drawing from Talon's 24/7/365 service, stock of high-usage parts and use of their mobile response vehicle or Cessna 206; Talon's clients can rest assured that their factory trained technicians are never out of reach. With one phone call Talon's AOG support becomes your on-demand, hands-on maintenance solution. To learn more visit Talon Air's website http://www.TalonAirJets.com
About Talon Air, Inc.
Founded in 2001, Talon Air is a boutique aircraft management company providing luxury private jet charter and a Part 145 Repair Station. Headquartered at Republic Airport (FRG) in Farmingdale, New York Talon Air, Inc. is located in a brand new state of the art 95,000-sq-ft hangar and office complex. With the addition of new private jets and turbo prop aircraft to its fleet, Talon continues to be an innovator in the industry delivering an unparalleled level of consistency and customer service. The vertically integrated fleet includes the Sikorsky 76B Helicopter, King Air B200, Hawker 400XP, Hawker 800XP, Hawker 900XP, Hawker 4000, Challenger 300, Legacy 600, Challenger 604 and Gulfstream IVSP private aircraft. All of Talon Air's ATP, FlightSafety and CAE SimuFlite trained pilots and A&P mechanics are Talon employees and maintain the highest safety ratings available. Talon Air, Inc holds the highest safety ratings of Wyvern Wingman, ARG/US Platinum and an IS-BAO Certification.
For more information, visit http://www.TalonAirJets.com
# # #