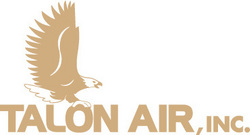 We are able to reduce downtime by approximately 30% by adjusting our manpower to suit the particular needs of the customer, thereby making Talon Air an extension of the customer's own in-house maintenance team
Farmingdale, NY (PRWEB) October 5, 2010
Talon Air, the fastest growing full service luxury private jet charter companies in the United States, announced today that it will be exhibiting at this year's National Business Aviation Association (NBAA) Convention in Atlanta, Georgia. Talon will be showcasing its Part 145 Maintenance, Aircraft Management and Part 135 Charter services.
"Talon Air has attended NBAA Conventions to interface with the companies that we do business with and to discover what is new in the industry." said Jason Sanders, Senior Vice President. "As an exhibitor we will showcase our products and services to our customers and introduce ourselves to the business aviation community." The Talon Air Maintenance and Charter Sales Team will be located at NBAA Booth No. 5629.
Talon Air Maintenance Services offers Talon's previously in-house private jet maintenance services to the public. The new facility focuses on structural repairs, inspections and avionics installations for all classes of private aircraft. Additionally, their full service battery shop is available to repair, replace or charge main and emergency batteries. Talon's AOG Go-Team provides a rapid mobile response directly to an aircraft anywhere in the Northeast with the parts and tooling necessary to return an aircraft to service with minimal delay. Drawing from Talon's 24/7/365 service, stock of high-usage parts and use of their mobile response vehicle or Cessna 208 Caravan, Talon's clients can rest assured that their factory trained technicians are never out of reach. With one phone call, Talon's AOG support becomes your on-demand, hands-on maintenance solution.
"We understand how critical downtime is" said Jason Figarsky, General Manager. "We are able to reduce downtime by approximately 30% by adjusting our manpower to suit the particular needs of the customer, thereby making Talon Air an extension of the customer's own in-house maintenance team."
Talon Air is a Part 135 Air Carrier and private jet management company which owns and operates a diverse fleet of 21 privates jets, executive helicopters and turbo prop aircraft. Talon not only maintains aircraft in an impeccable condition, but provides the owners with sufficient charter to defray their cost of ownership.
The backbone of the company is Talon's Charter Department. The charter coordinators are available 24/7/365 and serve as the clients' very own concierge. With guaranteed availability within the Talon fleet, owners have access to not only their aircraft but to an entire diversified fleet of aircraft. This option allows them to use multiple aircraft and provides the flexibility to choose the correct aircraft for each individual mission. Talon's pool of full-time pilots ensures that the aircraft is always covered and gives our owners the ability to use multiple crews when necessary. This coverage gives peace of mind and the freedom to travel when and where you wish while knowing the pilots are always well rested and ready for your departure.
To learn more about our Part 145 Maintenance, Aircraft Management and Part 135 Charter services visit us at the NBAA Conference Booth No 5629 or to request a maintenance or private charter quote, visit http://www.TalonAirJets.com or call 631.753.8881.
About Talon, Air Inc.
Founded in 2001, Talon Air has become New York's fastest growing boutique aircraft management company providing luxury private jet charter and maintenance services. Headquartered at Republic Airport (FRG) in Farmingdale, New York, Talon Air, Inc. is located in a brand new state of the art 100,000-sq-ft hangar and office complex. Talon continues to be an innovator in the air charter industry delivering an unparalleled level of consistency and customer service. The vertically integrated private jet fleet includes the Sikorsky 76B Helicopter, Cessna 208B Grand Caravan, King Air B200, Hawker 400XP, Hawker 800XP, Hawker 4000, Challenger 300, Legacy 600, Challenger 604 and Gulfstream IVSP private aircraft. All of Talon Air's ATP, FlightSafety and CAE SimuFlite trained pilots and factory trained A&P mechanics are Talon employees. Talon Air is Wyvern Wingman, ARG/US Platinum and an IS-BAO Registered company currently holding the highest industry safety ratings.
###