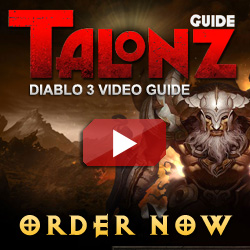 Talonz Diablo 3 Guide, with details at http://talonzdiablo3guide.com, offers the best strategies to master Diablo 3. It also offers live streaming and high-quality videos.
(PRWEB) May 14, 2012
The release of Diablo III on May 15th marks the end of a long-awaited sequel in the world-famous Diablo franchise, or at this point, trilogy. Even though millions of players throughout the world have poured countless hours into the first two games of the series (especially the second one), Diablo III represents a whole new challenge as many new game mechanics have been implemented, such as artisans and the new Inferno difficulty. Other aspects have been modified, such as the distribution of character points during leveling, spell-modifying runes, and the real auction house. Such a competitive approach to the world of Diablo requires players to constantly stay ahead of the curve, and one of the most effective ways of doing so is to use a strategy guide such as the Talonz Diablo 3 Guide.
The Talonz Diablo 3 Guide, with more information at talonzdiablo3guide.com, is basically a strategy guide dedicated to helping newcomers and veterans alike immerse themselves into the new world without taking forever to master all the new concepts. The guide provides coverage on every aspect of the game, from A to Z, allowing players to dive right into the action without concerns or unexpected frustrations.
The creator of the guide is a man by the name of John Greenhoe, and for those who are not familiar with him, he is also the man behind the Shokz Guide. Shokz guide is the top-selling Starcraft 2 guide. In other words, John Greenhoe is more than familiar with Blizzard and its games, having spent countless hours exploring and mastering every single detail. His passion for Diablo led him to make this guide, and judging by his past work, he definitely knows what he is talking about. He is also joined by 2 other professional gamers, Dusk and Talonz.
Here is a brief look at what the Talonz Guide has to offer:
-A leveling guide which takes the player through the best leveling tips and locations through all the four acts.
-A class guide which covers the ins and outs of every build and character.
-A gold guide to help players make and manage their resources.
-The artisan guide to help players get a solid grasp on one of the biggest gameplay additions.
-The inferno guide which covers everything about the new difficulty setting.
-Finally, there are also instructional member videos, to which more contents are added on a regular basis.
-Watch top diablo 3 players play D3 through their Live Stream.
In addition to that, the Talonz Diablo 3 Guide is constantly being updated with new information, tips and tricks based on the newest updates. It may very well be the best dynamic game guide out there.
More details are available at http://talonzdiablo3guide.com.