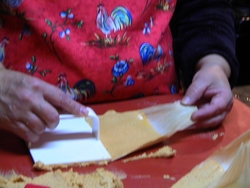 There are many ways to make a tamale but there are 12 Tamale-Logic's that one should follow when making tamales this holiday season.
Corpus Christi, TX (Vocus) December 15, 2009
Mex-Sales introduces Tamale-Logic to help everyone make tamales easily and more efficiently.
"There are many ways to make a tamale but there are 12 Tamale-Logic's that one should follow when making tamales this holiday season."
"The number one Tamale-Logic is using a tamale spreader to spread masa, make a dozen a minute, no more spoons."
"Number two Tamale-Logic is learn from a pro, Sandra Vasquez, a video demonstration on tamale making at TamaleSpreader.com."
Tamale-Logic number three use masa harina instant corn masa,
it is easy to make and it tastes great.
Tamales have come a long way my tamalero friends and family, here are the other nine tamale making rules:
Tamale-Logic #4 Use a mixer and baking powder to make fluffy tamales
Tamale-Logic #5 Use a food processor to grind the meat not a molino
Tamale-Logic #6 Use a blender to grind the spices in place of a molcajete
Tamale-Logic #7 The filling can be your creation any thing goes tamales locos
Tamale-Logic #8 Roll and do the baby-tuck el bebe and make six packs
Tamale-Logic #9 Steam Tamales don't let them touch the water a vapor por favor
Tamale-Logic #10 Have a Tamalada which is a tamale making party
Tamale-Logic #11 Make tamales for dinner year round using the 4 cup recipe
Tamale-Logic #12 If you need help send us an email info@mex-sales.com
Go your Merry Tamale-Logic Christmas way and speed up the process by using a tamale spreader. Then HO-HO-HO-HA-HA-HA spreading faster than before and end up with plenty tamales enough to have a party or to share with friends and family. "Start your own Tamale making tradition."
Here is the best recipe for Tamale Masa. The full bag recipe takes about 10 minutes to prepare and makes approximately 16 dozen Texas Tamales and 10 dozen California Tamales.
"TAMALE MASA RECIPE USING MASABROSA MASA HARINA"
Masabrosa 4-cups 1 Bag 4.4 lbs
Broth or Water comb. 4-cups 1-Gallon
Salt 1-TBSP 1/3Cup
Garlic Powder 1-TBSP 1/3Cup
Chile Powder 1-TBSP 1/3Cup
Oil or Lard (melted) 1-cup 4 Cups
Baking Powder 1-TBSP 1/3 Cup
Makes 4-Dozen 16-Dozen
Place broth in a very large bowl, add Masabrosa and mix using a mixer. (http://www.youtube.com/watch?v=JjXna2h0res) Mix together oil, chile powder and salt until disolved. Add to masa and mix using mixer on high for 2 minutes. Add baking powder and mix on high speed for 5 minutes. Let masa rest for 15 minutes. Then use Tamale-Logic #1 spread masa using the Mas Tamales Masa Spreader.
More masa and meat recipes at mex-sales.com/recipes.html. Also view our YouTube channel (http://www.youtube.com/user/1Tamalera) to check out every step of the tamale making process.
"The ultimate tamale-logic is that it is still hand made by a now certified Tamalero, tamale maker."
###