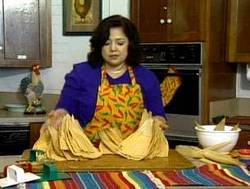 Diez y Seis de Septiembre
Corpus Christi, TX (Vocus) September 17, 2009
Forget waiting to make Mexican food until Cinco de Mayo, today is Mexican Independence Day and what better way to celebrate than learning how to make tamales.
"Diez y Seis de Septiembre," "Si se puede mas Tamales"
Tamales have long been said to serve as a ration for war parties in the ancient Americas, helping to feed the Mexican troops as they won their independence from Spanish rule. So today is the perfect day to try you hand at making a tamale. They are typically made with masa (corn meal dough) and filled with meats, cheese, vegetables, and anything that satisfies your taste.
Since American's have conquered the taco, embraced the enchilada, and now are making tamales for every occasion. And Sandra Vasquez of Corpus Christi, Texas has invented the handy "Mas Tamales" masa spreader to cut tamale making time in half.
"The tamale spreader is the first significant update in the process of making tamales since pre-Columbian times." Says Sandra Vasquez, Inventor.
If you've ever made tamales, then you know the most time consuming part of the tamale making process is the spreading of the masa or dough. Usually traditional tamale making takes years to master the art of spreading masa with a spoon. Today, the Mas Tamales Masa Spreader is revolutionizing the art of making tamales by taking the work out of tamales. All tamale makers are able to master the spreading of the dough in just a few minutes as the tamale spreader gives the tamale maker a reliable way to mass produce tamales. With the Mas Tamale Masa Spreader all it takes is one, easy stroke to get that perfect spread of masa each and every time. See how easy it is to master that tamale recipe with the Masa spreader.
Learn to make tamale recipes from start to finish and watch a tamale video demonstration to:

Spread masa (dough) like a Pro
Learn one stroke for a perfect spread
More tamales in less time
Keep tamale making alive. "Que siga la Tradicion" TAMALES
###