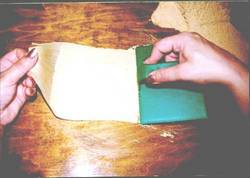 All the other tamale making steps are easy
Corpus Christi, TX (Vocus) September 22, 2010
Mex-Sales Co., a small family owned business located in Corpus Christi, Texas, introduces the product launch of the Mas Tamales Masa Spreader. The Mas Tamales Masa Spreader helps streamline the extensive process of masa spreading. The product provides an innovative method to the traditional tamale making experience.
Traditionally masa spreading was performed by using the back of a spoon. Spreading using a spoon is hard work and mastering an even spread may take many years. "If you've ever made tamales, you know the most time consuming part of the tamale making process is the spreading of the masa or dough." "All the other tamale making steps are easy," says Sandra Vasquez, inventor of the Tamale Masa Spreader. The Tamale Masa Spreader makes it easy to spread tamale masa dough onto a cornhusk or banana leaf. Just one stroke is needed to master a perfect even spread of dough.
The Tamale Masa Spreader is equipped with tracks and angles, which are instrumental features to an even spread. The tracks contain the masa and the angles gauge the thickness of the dough. Using the front end of the spreader pick up masa, place it on husk, lock in place, and slide down towards the end of the husk. The thickness is controlled by the amount of pressure you apply at the angles.
"It is no longer an all day affair if you have a Tamale Spreader and a good recipe," says Vasquez. The Mas Tamales Masa Spreader is the most essential utensil needed to mass produce tamales at home.
For more information regarding the tamale making process click on Tamales from Start to Finish and watch video clips on the Tamale Process. The video clips will demonstrate the Tamale Masa Spreader and tamale process from stat to finish. Website also contains meat and Tamale Masa Tamale Recipes using lard or oil.
###