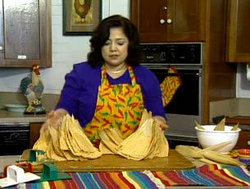 Que siga la Tradicion! Tamales!
Corpus Christi, TX (Vocus) November 3, 2009
Tamale Season begins the later part of October beginning of November with "Dia de los Muertos". The season continues with stuffing the turkey with tamales, then praising our Virgen de Guadalupe and celebrating Navidad Christmas with tamales. Tamale season in the US ends with the Reyes Magos. Tamales are a year round festive food in Mexico.
Recordando, is remembering how the whole "familia" family was needed to make tamales. Most families watched dad "amasar la masa" knead the dough with his bare hands. Meanwhile mom was "preparando" preparing the meat filling and cleaning the "hojas" cornhusks. She was also responsible for grinding the pepper corns, cumin seeds, and garlic using grandmother's "molcajete". The next step was grinding the meat with a "molino". Mom would also typically be the one to mix the the spices into the meat. Dad of course was the taste tester. After all this work, then came the real work of spreading the tamale masa onto the cornhusk. This is the most time consuming part of the Tamale Process. Spreading the dough with the back of a spoon and rotating it at the same time is an art. It takes 10 years to master a good spread. Everyone would use their favorite cuchara spoon to spread masa on the cornhusk and then fill and roll the tamales. The tamales were then cooked in a large pot. It would take a family about 2 days to finish making 40 dozens of tamales. Every year many families plan their "Tamalada" which is a family tradition to gather and make tamales.
Today, tamale making has been reinvented by using a tamale spreader and modern equipment. For example, kneading the dough is now done by using a mixer instead of hands. Families often use a blender to grind the spices instead of a rock "molcajete". A food processor has replaced the meat grinder and The Tamale Spreader has replaced the spoon. All this modern equipment is helping many families to continue to have a "tamalada". With the latest tamale technology, we can now make 20 dozen tamales in 3 hours and still have time to eat them for dinner.
The Tamale Process:
Prepare corn husks: (http://www.mex-sales.com/tamal2.html)
-Pull apart dry husks and soak in hot water for an hour or until soft.
Prepare tamale filling: (http://www.mex-sales.com/tamal3.html)
-Cook your favorite meat. Slow cook or boil beef, chicken, pork or a combination of beef and pork. Grind meat in food processor.
The Spices: (http://www.mex-sales.com/tamal4.html)
-Fresh spices are better. Boil chile ancho. Using a blender grind pepper corns and cumin seed until milled. Then add chile ancho, garlic and some broth in blender and grind until a sauce is formed. Add sauce to meat mix and add salt to taste.
Prepare tamale dough: (http://www.mex-sales.com/tamal5.html)
-Place dough in a large bowl and break masa into pieces. Melt lard and shortening on low heat. Then add chili powder, garlic powder and salt blend. Add broth and spices into dough whip using a mixer until fluffy.
Spread masa fast and easy: (http://www.mex-sales.com/tamal6.html)
-Spread masa on silky side using the Mas Tamales Masa Spreader.
Filling and folding tamales: (http://www.mex-sales.com/tamal7.html)
-After the masa is spread, place 1 to 2 tablespoons of filling lengthwise in center of masa. Then, fold sides over towards center. Next, fold end of husk and pinch open end. In a large steamer, add water and set steam rack, then place tamales standing upright with the folded side to the bottom. Cover with wet kitchen towel or husks.
Cook the Tamales: (http://www.mex-sales.com/tamal8.html)
-Steam Tamales for 1 1/2 to 2 hours. Let tamales cool for about 15 minutes. Tamales are cooked when the dough is firm, spongy and does not stick to husk. Enjoy.
Keep tamale making alive. "Que siga la Tradicion! Tamales!"
###