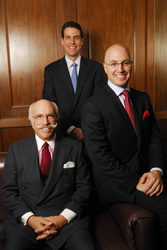 New York (PRWEB) February 22, 2010
Smiley & Smiley, LLP, a prominent New York City personal injury law firm, has announced the filing this week of a lawsuit against Hoffman LaRoche, Inc, manufacturer of Tamiflu, a drug widely used to treat the flu. The lawsuit alleges that Tamiflu caused a 14-year-old boy to suffer from delusions leading him to jump from his second story bedroom window and sustain serious injuries.
The young boy sustained multiple fractures in both feet and in his spine when he fell to his family's driveway below. According to the lawsuit, prior similar incidents involving Tamiflu were known to the drug maker but it failed to properly warn patients as well as their doctors of these effects. The lawsuit further claims that the doctor who prescribed Tamiflu to the child failed to warn of the potential for delusional side effects and failed to advise the child's parents to closely monitor their son. Instead, the suit claims, their doctor advised them to separate the boy from his siblings and have him sleep alone so as not to infect other family members with the flu. "Parents need to know that Tamiflu may cause delusions in young children and adolescents resulting in abnormal and potentially life threatening or injury producing behavior. Children taking Tamiflu should be closely monitored at all times. Hoffman LaRoche must do a better job of warning consumers and their doctors of the known potential for harm and injury that can result from the use of its drug," says Smiley Law partner Andrew J. Smiley, Esq.
Smiley & Smiley, LLP, a boutique law firm in midtown Manhattan, specializes in representing victims who have suffered catastrophic injury as a result of another's negligence. The firm represents clients who have sustained serious injuries or wrongful death resulting from medical malpractice, product liability, automobile accidents and construction accidents.
The partners at Smiley & Smiley, LLP regularly appear on television news networks to provide legal commentary. Previous appearances on Fox News Network, Good Morning America, TrueTV, Headline News, and MSNBC can be viewed on the firm's video-based website at http://www.smileylaw.com..
Visit Smiley Law's website in spanish (espanol) at http://www.fueherido.com.
Escava v. Hoffman LaRoche et al. Index#3868/2010 New York State Supreme Court, Kings County
###