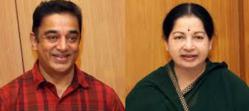 Kamal addressed his gratitude for the support from the Tamil Nadu government
Chennai, Tamil Nadu (PRWEB) February 07, 2013
Kamal Haasan has recently released a statement regarding his new movie 'Vishwaroopam', which is set to release in Tamil Nadu on February 7th. The movie has faced many obstacles to be released but in facing these obstacles, Kamal Hassan has learned many new lessons.
Here are some highlights from his statement.
'When there was trouble to my movie 'Vishwaroopam', many of my fans sent cheques, cash and the key of their homes. Their love is immeasurable. I am indebted to my fans forever.'
'Vishwaroopam' has got a great reception which I didn't even expect. Fans have made everybody realize their social duty. Appreciation by other artistes has taken me to new heights of enthusiasm. The movie has received a tremendous welcome in Tamil Nadu, other states in India and places abroad. I convey my gratitude to Tamil Nadu Chief Minister, Media partners, and co-artistes at this juncture. I have sent a letter requesting permission to meet the Chief Minister. Also, I have requested the Chief Minister to watch 'Vishwaroopam'.
'I don't worry about the criticisms against my movie, many have appreciated me more after watching the movie. That appreciation is enough for me. I do not know anything in politics, all that I know is cinema. I see artistes as artistes, let them grow. I would like to reiterate the statement that I would leave the country if there are hassles to any of my upcoming flicks. I would to discuss with the concerned companies regarding the DTH release.'
'After 'Vishwaroopam', 'Vishwaroopam' Part 2' will be released. Then, I will do a movie produced by Barry Osborne, who is Hollywood producer. Also, I will direct a movie called 'Moo', which is under my own banner'.
Kamal Hassan seem pretty pleased by the support he received and the ruling by the courts. Only time will tell if his movie will be a big hit, but seeing all the support, it is a safe bet to say it will be.