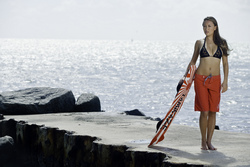 I'm excited for the opportunity to spend a few days with some great people… seeing a part of the country I'm eager to explore, and helping in substantial and charitable ways during the trip
Delray Beach, FL (PRWEB) March 3, 2010
Tammy Camp, entrepreneur and adventure traveler, is heading the South Florida Chevy Adventure Team as they make their way from Delray Beach, FL to Austin, TX for the annual SXSW conference.
The South Florida team is leaving Delray Beach on March 8th, planning to arrive in Austin on the 12th. The team will follow a set of clues and scavenger-hunt style "challenges" along the way, competing against seven other teams from across the country. The teams are tasked to record their challenges with pictures, videos, or by gathering physical evidence.
The idea for the teams is to experience the travel by completing fun and innovative challenges that range from silly to serious, and that have an impact on their communities. There will be a special focus for the South Florida team on supporting Tammy's charity, The DREAM project (http://www.dominicandream.org). Stops are already planned in Orlando, Tallahassee, New Orleans, and Houston.
"I'm excited for the opportunity to spend a few days with some great people… seeing a part of the country I'm eager to explore, and helping in substantial and charitable ways during the trip," says Tammy Camp. "Plus, I'm expecting to have a ton of fun!"
The other members of the South Florida team are Heather McDonald, Slava Rubin, and Chad Folkening. People can follow the team's progress on their lifecasting site at http://www.roadchallenge.com, or on http://twitter.com/tammycamp and http://www.tammycamp.com.
# # #