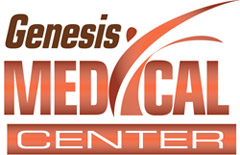 Genesis offers long term knee pain relief options that are covered by insurance and very effective at helping patients avoid surgery!
Tampa, Florida (PRWEB) August 27, 2015
The top Tampa pain management clinic, Genesis Medical, is now offering several options for long term nonoperative knee pain relief. These options now include radiofrequency ablation along with Viscosupplementation, both of which are covered by insurance and have been extremely effective at helping patients avoid potentially risky surgery. Call Genesis Medical today at 813-666-4399.
Knee pain due to rheumatoid or degenerative arthritis, post-traumatic arthritis or Sports injuries may prohibit individuals from being able to participate in desired activities or high level sports. Other than steroid injections, there have not been excellent nonoperative options for long-term need pain relief that are covered by insurance.
The board-certified Tampa pain management doctor at Genesis Medical provides several options. First of all, injections with Viscosupplementation, which are hyaluronic acid, are FDA approved and often provide 6 to 12 months of relief to over 80% of patients. Insurance covers the procedure, which is performed as an outpatient. It may take an injection every week for a month to achieve maximum effect.
With radiofrequency ablation, part of the nerve supply to the knee is deadened with thermal energy. The nerves worked on are only sensory, not motor. Therefore, relief is achieved with no effect on one's ability to run, jump, or walk at all.
The radiofrequency procedure often provides a year of excellent relief, and can be repeated when the pain returns. An additional procedure being offered at Genesis Medical is PRP therapy. This procedure involves an injection of platelet rich plasma, which is obtained from a blood draw that is spun rapidly for 15 minutes. The increased concentration of platelets and growth factors helps provide knee pain relief and increased functional ability.
Most insurance is accepted at Genesis Medical, and there are two locations. One is in Tampa and the second is in Temple Terrace.
Call 813-666-4399 for the top knee pain specialists in Tampa today.