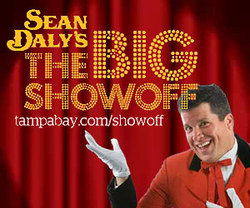 We see the Big Show Off as a fun way to connect with and engage Tampa Bay residents. We're giving them a platform to share their talents on the most popular local news Web site
St. Petersburg, Fla. (PRWEB) July 30, 2009
TampaBay.com has unveiled its first online video contest.
Sean Daly's Big Show Off on TampaBay.com is a fun and easy-to-enter video contest that embraces the secret talents of people who live in the Tampa Bay area. Those who can sing, dance, do card tricks or hula hoop upside down or possess any other talent are encouraged to submit a video of the performance for a chance to win $1,000.
"If you can walk on your hands, grill a perfect steak, write with your toes or sing the Star Spangled Banner backwards, it's your turn to show off," according to TampaBay.com Publisher Stephen Buckley.
Participants register for the contest and then upload a brief video. All eligible contestants (at least 18 years old and a resident of one of the following Florida counties: Pasco, Citrus, Manatee, Polk, Hernando, Sarasota, Hillsborough or Pinellas) who upload a video are automatically entered for a chance to win $1,000. The contest ends September 8, 2009.
"We see the Big Show Off as a fun way to connect with and engage Tampa Bay residents. We're giving them a platform to share their talents on the most popular local news Web site," Buckley added.
About the St. Petersburg Times and TampaBay.com:
The St. Petersburg Times is considered one of the top ten newspapers in the country with eight Pulitzer Prizes to its name, including two 2009 Pulitzer Prizes. It is Florida's largest newspaper with an average circulation of 413,929 Sunday and 283,093 daily (ABC publisher's statement 3/29/09). TampaBay.com is Tampa Bay's largest local news Web site, with a combined local and national audience of nearly 1.6 million unique visitors each month (Nielsen//NetRatings average for 10/08-3/09)
###