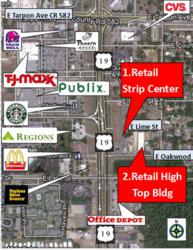 Tarpon Springs, FL (PRWEB) November 30, 2012
Steven Silverman, the Broker at Tampa Commercial Real Estate represented the Buyer of a shopping center located at 40741 US Highway 19, Tarpon Springs, FL 34689.
Tampa Commercial Real Estate is a commercial real estate brokerage company based in Tampa, FL. The firm represents Buyers, Sellers, Landlords and Tenants in the sale or lease of commercial real estate in the Tampa Bay area.
The Buyers were seeking a location in north Pinellas County where they could open a golf cart business. Ideally, they wanted a larger property to accommodate additional tenants and which could generate rental income. After extensive searching, Silverman located this multi-tenant property for the Buyer and the Buyer moved quickly with a cash offer to secure the deal.
The property is located along busy US Hwy 19 just south of the Tarpon Mall and Tarpon Ave (County Rd 582). It has excellent visibility and over 75,000 cars pass this site. The site is located in a busy commercial node. It is across the street from major retailers such as Starbucks, McDonalds, Publix, Regions Bank, TJ Max etc. The center comprises two buildings on two adjacent parcels.
BUILDING 1: is a 15,345 sf Retail Strip Center on 1.04 ac. It is divided into several retail spaces. tenants include a Restaurant, a Dry Cleaner, a Karate Studio a salon.
BUILDING 2: is a 12,000 sf Retail on 1.16 ac with 30 ft high clear height. Also on this property is an income producing Billboard sign. The property has ample parking.
The building has been allowed to run down and the Buyer is conducting significant upgrades. Current tenants have been evicted and the building is being prepared for new for retail tenants.
In addition to locating and then analyzing the property , Steven Silverman at Tampa Commercial Real Estate further assisted the Buyer during the process by connecting the Buyer with legal representation, contractors, building inspectors, environmental inspectors etc in order to ensure that Buyer made a successful and profitable transaction.
Tampa Commercial Real Estate will be representing the Buyer in leasing out the building and new tenants are actively being sought. A property brochure is available. The Retail strip center works well for regular retail tenants. The 12,000 sf building with 30ft high ceiling at the rear is perfect for a recreational or exercise type tenant. See Video
Steven Silverman is the Broker at Tampa Commercial Real Estate. Steven is on the Board of the Florida Gulf Coast Commercial Assoc. of Realtors and is also on the board of the Florida CCIM Chapter (Certified Commercial Investment Member)