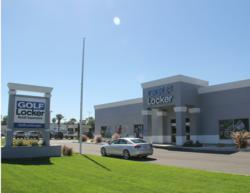 Tampa, Florida (PRWEB) November 01, 2012
Steven Silverman, the Broker at Tampa Commercial Real Estate represented the owners of the Ethan Allen store located at 6200 N Dale Mabry Ave, Tampa Fl to Golf Locker Inc. Ethan Allen is a high end destination furniture retailer. Golf Locker is a retailer of golf apparel and accessories.
Tampa Commercial Real Estate is a commercial real estate brokerage company based in Tampa, FL. The firm represents Buyers, Sellers, Landlords and Tenants in the sale or lease of commercial real estate in the Tampa Bay area
Ethan Allen in Tampa had two successful locations located only 3 miles apart. Both locations were doing business but cannibalization was occurring. The property owners hired Steven Silverman, the broker at Tampa Commercial Real Estate to sell the Dale Mabry retail location. The Dale Mabry store was 32,000 sf which comprised 20,000 sf retail and a 10,000 sf warehouse on 1.8 acres.
Golf Locker is a fast growing retailer of golf apparel that was located one mile down the road in a 10,000 sf space. In addition to its floor sales, Golf Locker has achieved extremely strong growth over the internet and internet sales now comprises 90% of their business. The Ethan Allen store offered a unique expansion opportunity for Golf Locker. The 20,000 sf retail space will allow Golf Locker to triple the size of its retail floor area and create the first golf super store in the Tampa area. The 10,000 sf warehouse with 30 ft high ceilings offers a tremendous amount of onsite storage to feed the growth of their internet business. No other retailer will be able to offer the selection that Golf Locker will offer. The new Golf Locker Super store opened at at the end of summer 2012 and has quickly become a destination store golf apparel.
Tampa Commercial Real Estate brought both Buyer and Seller together and facilitated the success of the project by arranging meetings between the County and the Buyer to ensure that no issues would arise to impede the construction of the new super store.
Ethan Allen continues to successfully operate its two other stores in Hillsborough county which both picked up the slack from the Dale Mabry store without any noticeable loss of business. Since the Ethan Allen administrative offices were also housed at the Dale Mabry location, Steven Silverman was able to relocate the Ethan Allen offices to a new facility on Benjamin Rd. The $1,840,000 transaction was a win-win for both Buyer and Seller
Steven Silverman is the Broker at Tampa Commercial Real Estate. Steven is on the Board of the Florida Gulf Coast Commercial Assoc. of Realtors and is also on the board of the Florida CCIM Chapter (Certified Commercial Investment Member)