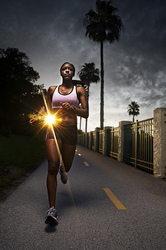 A Fresh Start to a Healthy Lifestyle!
Brandon, FL (PRWEB) October 16, 2010
Evonne Monét Archer, President and CEO of It's a New Day with Monét, LLC, is having another bootcamp. The last bootcamp of 2010 will be November 1-December 10. This includes 6 weeks (3 sessions a week) of intense body workouts, before and after fitness assessments, her official boot camp tee, goody bag, and more. Each session lasts up to an hour, so each client will enhance their muscular endurance and strength, flexibility, cardiorespiratory fitness, balance, most of all, tackle those horrible health conditions in the process.
During, and upon completion of the bootcamp, each client will have a renewed mind, body, and spirit. Not only will they experience an increase in confidence, but they will learn tips to assist in making LIFE-LONG changes even after boot camp. Day one, each client states a goal, they may reach that goal in one 6 week session, or 3 boot camps. Either way, everyone owes themselves a right to enjoy life, and LIVE to enjoy it. Let's band together with Evonne to fight obesity and join this boot camp for roughly $14/session (Adults), and roughly $8/session for minors.
Evonne is an independent ACE-certified personal trainer based out in Brandon/Tampa, Fl. She conducts One-on-One personal training, Group Training, Athletic Training, Boot Camps, and/or Individualized Workout Plans for the client to perform on his/her own. If you live in the surrounding areas, she can come to you.
***She is also in process of expanding an all natural wellness company nationwide! She is seeking motivated individuals that are interested in making an extra income from the extremely reputable company called EIRO Research. Visit her EIRO site for details. All serious inquiries email Evonne at itsanewdaywithmonet(at)hotmail(dot)com. She'd love to partner with you.
Follow Evonne on Twitter.
Like Evonne's Facebook page.
Subscribe to Evonne's Youtube page.
###