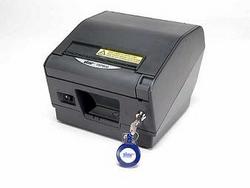 Managing the Documents You Can't Live Without™
Edison, NJ (PRWEB) October 3, 2007
In continuing with its "Always-Leading-Always Innovating" corporate philosophy of Star Micronics America, Inc. and partner, "Managing the Documents You Can't Live Without™" philosophy of Standard Register, are proud to announce their combined, secured solution for the recent Medicaid request for "tamper resistant" prescriptions. The secured printing solution is available now for hospitals, clinics, and physician's offices.
The Star Micronics' TSP800Rx Prescription Printer tackles both the "tamper resistant" and "handwriting legibility" challenges of traditional prescriptions while solving the Medicaid Program Section 1903b (i) of the Social Security Act (42 USC193b) (i), paragraph (23). The new requisition for "tamper resistant" or electronic prescriptions for reimbursement for all Medicaid prescriptions having a proposed deadline of October 1, 2007 and a proposed extension of March 31, 2008 by the NCPA (National Community Pharmacists Association) reinforces the premises and existence of the TSP800Rx printer. Direct thermal printing itself is tamper resistant, any alteration performed on the paper results in a black mark or darkened circle on the paper.
A forged partnership between Star Micronics and a company synonymous to fraud protection, Standard Register, has advanced direct thermal paper technology and thermal prescription printing into an anti-fraudulent and security classification. Standard Register's advanced development of thermal security paper containing individual bar codes for each script for identification and tracking, authenticity test patches for pharmacists of chromatic ink and unique void pantograph backgrounds are the only a few of the chosen features of this highly specialized paper.
The TSP800Rx prescription printer is available today; its features are as unique as the specialized paper it prints on. A very small and compact direct thermal printer with security features of locking paper chambers, capability of a security cable locking system and the inability of unauthorized paper dispensing. Straightforward printing drivers of Windows (Vista®, XP®, 2k®), Linux and Mac are included on a CD are included. A few quick facts about the TSP800Rx printer: printer size is 7" x 8.5" x 5.8"; printing time of a script is 2.2 seconds; specialized thermal prescription paper is available for 48 states, excluding NJ and CA; and there are 500 scripts per roll.
For more information and pricing on the TSP800Rx printer please, contact Star Micronics at 800-782-7636 ext 107, the website for the TSP800Rx printer: http://www.starmicronics.com/Printer/PrinterDesc.aspx?PageId=1&PrinterId=36
About Star Micronics:
Star Micronics-Always Leading-Always Innovating- For over 50 years, Star Micronics has been a world wide leader in the manufacturing of audio components, POS, receipt thermal and impact printers resulting in one of the world's largest printer manufacturers. Star Micronics offers a full line of thermal and dot matrix printers to meet the widest of applications. Star offers small receipt printers utilized in general POS, healthcare, retail, kiosks, banking ATM's, restaurants, hospitality, gaming and bar code/labeling. More information is available at http://www.starmicronics.com
About Standard Register:
Standard Register is a premier document services provider, trusted by companies to manage the critical documents they need to thrive in today's competitive climate. Relying on nearly 100 years of industry expertise, Lean Six Sigma methodologies and leading technologies, the company helps organizations increase efficiency, reduce costs, mitigate risks, grow revenue and meet the challenges of a changing business landscape. It offers document and label solutions, technology solutions, consulting and print supply chain services to help clients manage documents across their enterprise. More information is available at http://www.standardregister.com
###