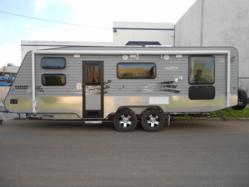 Caravans have become part of their journey, rather than just somewhere to stay when they reach a destination
(PRWEB) August 21, 2012
Known for its innovative designs and hand-building capabilities, Creative Caravans has just announced the expansion of its Australian distributor network. With an increase in demand for off-road caravans, the company believes that its Tanami Caravan range has inspired distributors, and consumers, who are tired of the same old designs.
While exhibiting at caravan and camping expos around the country in recent months, Creative Caravans CEO Michael Vona, was approached by many regional distributors wanting to represent the company. With a policy of only working with people who understand the unique features and benefits of the company's Tanami Caravan design, Mr Vona carefully considered each request before aligning with new distributors.
"Our Tanami vans in particular have been very popular with the public, because we educate our distributors on their very special features" said Mr Vona. "Importantly though, we have the flexibility to modify each caravan to the purchasers' specifications, and it is important for our dealers to understand the huge benefits of this to their customers. We individually construct each van, by staff who take real pride in their workmanship."
Mr Vona believes that the growing off-road touring trend in Australia has been met with the Tanami's superior off-road range.
"We designed the Tanami off-road range for those travellers, particularly 'grey nomads' and families, who are opting to turn off the highways to take the roads less travelled" explained Mr Vona. "Caravans have become part of their journey, rather than just somewhere to stay when they reach a destination."
Creative Caravans now has distributors in Victoria, New South Wales, Queensland and Tasmania. For details, and more information on the Tanami Caravan range, visit creativecaravans4u.com.au
About Michael Vona and Creative Caravans
Creative Caravans is an Australian owned Melbourne based family business and all facets of our designs are discussed and confirmed with clients. It is has acknowledged expertise in building quality caravans, locally, 5 days a week.
The company's range of vans starts at 17'6" single axis to 23'6" tandem axle van. Every van is built using quality components and materials by experienced staff that takes pride in their work.
Michael Vona first started in the caravan industry 20 years ago as an apprentice. His first job was constructing panels from where he progressed and increased his skill base over the next 13 years to be competent in all aspects of caravan manufacture.
In 2006, Michael went into business for himself - he'd identified a gap in the Australian caravan market that he had the expertise to fill.
His expertise in making caravans, his team's attention to detail, and the personal touch that comes from operating a family business, has made Creative Caravans the company it is today: A multi-million dollar business, with 35 employees.
Michael Vona regards every caravan manufactured as his own.
Learn more about the company's Tanami Caravans.