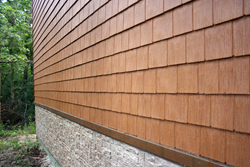 "Like Masters of Flip, we have taken on some of the biggest problems in exterior building products and found the ideal solutions." -Ralph Bruno, President of Tando
Quebec City, Quebec (PRWEB) January 18, 2017
Tando shake and stone products, marketed as TandoShake™ and TandoStone™, representing new categories in exterior cladding, celebrated their debut at the International Builders Show with HGTV's Masters of Flip, Kortney and Dave Wilson on Tuesday, Jan. 10, 2017. Known for taking on tough home improvement projects, Kortney and Dave met with attendees and signed autographs.
The new Tando brand of shake and stone comes from the team behind Novik, which acquired Exteria Building Products in June 2016. Tando combines the best of what Novik and Exteria offered under a single brand name and is perfect for pro contractors and builders.
Ralph Bruno, President of Tando, who is helping to lead the category shift from wood and stone to Tando's easy to install, low-maintenance product lines, says Kortney and Dave were a great fit for the brands at the show. "Like Masters of Flip, we have taken on some of the biggest problems in exterior building products and found the ideal solutions," he said. "We loved working with them as we introduced Tando to the professional building market for the first time."
Tando features two category-defining products: TandoShake, with the rich look of stained shake and a level of realism set against a benchmark of real wood shakes. Professional installers are recommending TandoShake to their customers who are looking for natural beauty without the upkeep associated with stained wood. And, TandoStone with unrivaled natural beauty, right down to its authentic texture, is a lighter and more workable option to stone or stone veneer.
To learn more about TandoShake and TandoStone, visit http://www.tandobp.com. Also watch Dave and Kortney on "Masters of Flip" on HGTV.
About Tando
Tando represents the creation of something new and completely different in exterior cladding. An innovative product portfolio backed by the most advanced technologies in the industry. Tando takes exterior cladding to a new level by replicating the natural beauty and texture of wood and stone in a product line that promises virtually no upkeep, provides professional installers with the opportunity to create interesting mixed material finishes, all while addressing and mitigating the issues and concerns around moisture management. Tando products complement all types of siding including fiber cement, engineered wood, stucco, brick, and vinyl.