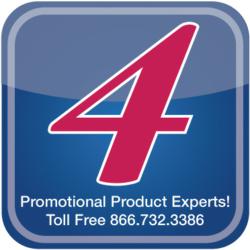 Essex, Ct (PRWEB) December 14, 2011
No, Tangerine Tango is not the latest dance craze but it is being called the hot new color for 2012. Each year the color experts at the Pantone Color Institute select the 'it' color for the upcoming year based on trends related to socio-economic and global influences, film, art, music and pop cultural phenomena's of the current year. Honeysuckle reigned as the 2011 'it' color. Sticking with the vibrant orangey hue the color wizards at Pantone promise Tangerine Tango will make a splash on runways, in homes and on the streets in 2012. The promotional product industry is also taking note of the bold color by recommending businesses amp up their color schemes with Tangerine Tango in the coming year. 4AllPromos has hundreds of bright, trendy, tangerine colored promotional products and custom imprinted items that will be sure to make a splash in 2012.
The bold and radiant reddish-orange Tangerine Tango can evoke a large array of emotions. Color experts suggest orange helps boost energy and helps people to recharge and move forward. The vivid color is also represents vitality and adrenaline. The Pantone Institute see Tangerine Tango as 'hopeful and optimistic' as well as vivacious yet sophisticated. Glimpses of this bright orange color in everyday areas such as decorating, fashion, and pop culture will help inspire people to carry on despite the tough issues surrounding us in 2012.
Typically in American culture orange is an indication of urgency and is seen prominently in construction zones or other dangerous environments. However, in the new year businesses and organizations can have a poetic license with the trendy color using it to bring attention of their products and initiatives. Use orange to celebrate or alert customers, clients and guests of new products or projects by creating unique and helpful giveaways to distribute at special events, sales or contests.
4AllPromos has hundreds of tangerine colored products to help businesses keep up with the color trend of 2012. The product specialists at 4AllPromos can help customer's find the perfect tangerine product for any kind of occasion. All 4AllPromos products are customizable and can be ordered and delivered in a matter of weeks. The company guarantees 100% satisfaction with all their products. Choose from a large inventory of tote bags, pens, mugs, t-shirts, stress balls, candy, trade show giveaways, stickers and much, much more.
For more information on how Tangerine Tango and 4AllPromos can help businesses in 2012 visit the website or call a product specialist toll-free at 1-866-732-3386. Also find 4AllPromos on Facebook and Twitter to read about more promotional product industry news and trends. 4AllPromos, based in Essex, Ct, is one of the nation's largest marketers of promotional and custom imprinted products helping businesses and organizations to brand themselves with unique and useful products.
###