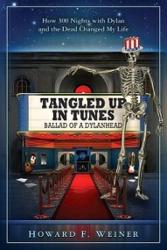 New York, NY (PRWEB) January 16, 2012
Fifty years after recording his first album, Bob Dylan is still on the road heading for another joint. Howard Weiner's new memoir, Tangled Up in Tunes: Ballad of a Dylanhead, is the story of a ramblin' man who has followed Dylan and the Dead for three decades. Tangled Up in Tunes is an intimate journey into the world of Deadheads and Dylan aficionados with a fresh perspective on Dylan's "Never Ending Tour."
Howard Weiner's American road rhapsody began in a blizzard on his way to see the Grateful Dead at the Philadelphia Spectrum in 1982. Seeking identity in conformist times, Howard clung to the music that inspired him, and 125 Grateful Dead concerts later, he found Bob Dylan. A tale of twisted fate, Tangled Up in Tunes explores how the Grateful Dead influenced Dylan's career when they played together in 1987. Dylan has been touring ever since, and he's gone on to release some of the best albums of his iconic career.
After witnessing the horror of 9/11 from a street corner in Downtown Manhattan, Howard Weiner quit his day job to revisit his road-tripping Glory Days. Pursuing his muse like never before, Howard experienced Dylan's rumbling howl on every stage from New Orleans to Las Vegas. Rambling across America, both the artist, and the author, try to stay forever young on the road.
In praise of Tangled Up in Tunes, Jonathan Ames, creator of the HBO series Bored To Death, said," Howard's writing of this time period has an On The Road feel to it."
Robert Polito, author of Savage Art: A Biography of Jim Thompson and Hollywood & God, said, "Howard Weiner's new book is a smart, funny, informative, and ultimately touching accomplishment, a classic American bildungsroman with Jerry Garcia and Bob Dylan as the surprising emotional engines."
Howard Weiner created and hosted the radio show Visions of Dylan for WBAI. In 2010, Howard received an MFA Degree in Creative Writing from The New School.
# # #