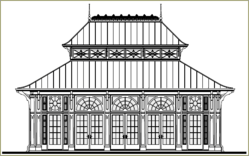 Denton, MD (PRWEB) November 01, 2011
Because the necessary expertise couldn't be found within Africa's existing manufacturing industry, the client and their architect spent eighteen months visiting various manufacturers' facilities around the globe to meet with design/construction teams during the selection process. Tanglewood Conservatories was ultimately chosen because of the high quality of its craftsmanship, and because of its ability to bring basic conservatory development plans to a higher level of architectural detail with proportion, design, and artistic quality. Tanglewood has previously completed conservatory projects destined for other parts of the world including Shanghai, China.
The distinctive 'French Country' style Orangery will be constructed of beautiful African hardwood—imported to America for shaping and construction, and then returned to its native land in the form of a light- and warmth-filled space for gathering family and friends. The large, freestanding Orangery will feature a non-typical solid roof. Set into the mahogany frame will be encapsulated leaded stained glass panels with tempered outboard and inboard lights. The client was drawn to Tanglewood's quality of design, craftsmanship, ability to listen and collaborate, and flexibility in meeting their needs.
After initial development in the company's Maryland facility, the Orangery will be disassembled for shipment and Tanglewood's installation team will travel to Africa to re-construct it at the home site in Summer 2012.
###