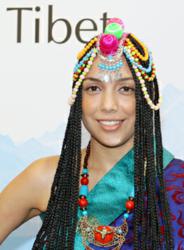 the best of nature combined with the best of science – clinically proven ingredients from the purest source in the world
Irvine, CA (PRWEB) April 23, 2012
Tangut Corporation Limited, an international pharmaceutical company, launches operations in the United States under the trade name Tangut USA Corporation (Tangut USA) to serve the rapidly growing nutraceutical market.
"U.S. consumers understand the importance of natural products in contributing to overall health and ecology. We want to introduce to them the best of nature combined with the best of science – clinically proven ingredients from the purest source in the world," said Diana Yuen, CEO of Tangut USA.
With the purchase of a multi-level office and storefront in Southern California and the launch of a new website catering specifically to U.S. clientele, Tangut Corporation provides a fresh venue to its already successful business overseas. Currently, the company's signature line of health products from the pollution-free Tibetan plateau is being sold at Manning's, Hong Kong's largest retail chain store.
Tangut USA aims to be sold in a wide range of U.S. stores in the coming months. In March, the company held a pre-launch event at the Natural Products Expo West in Anaheim, California and was well received by more than 1,500 visitors to its booth.
"I really look forward to Tangut products because I like their science-based approach, USA manufacturing process, pure Tibetan source, and of course, their well-documented claims of efficacy," said Merrianne Do, PharmD, an attendee at the Natural Products Expo.
Three products are available for immediate purchase at the Tangut USA website and several others are in the pipeline. One of the products, Resvene, is described as a natural anti-aging and cell-revival formula made from 98% pure Trans Resveratrol. The other two products have the unique names Seaberry Essence and Seaberry CardioMed. Both are made from USDA certified organic Sea Buckthorn seed oil which has been claimed by the Dr. Oz show as being beneficial for the heart, stomach, mouth, skin hair, nails and even weight loss due to its unique Omega 7 properties.
About Tangut USA Corporation
Tangut USA Corporation is a pharmaceutical-based company that applies its research-based approach to study naturally occuring ingredients and to ultimately develop new, innovative products for the health and wellness industry. Tangut USA's unique line of natural products is clinically-proven and is made with bioactive ingredients drawn from the purest organic source in the world – the pollution-free Tibetan Plateau. Its award-winning experts in research and development are recognized worldwide and share the Tangut USA belief of using creative and sustainable solutions to face today's health challenges and discover new opportunities for tomorrow.
For more information about Tangut USA please call 949-529-2829 or visit http://www.tangutusa.com.