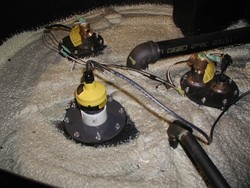 This is the only tank monitoring system of it's kind that combines Ethernet, monitoring software, and Modbus RS-485 -- all for one affordable price
Cleveland, OH (PRWEB) March 24, 2010
Flow Line Options Corp. (Flo-Corp), a leading manufacturer and national supplier of measurement and control instrumentation, today announced that one of America's largest retailers has selected Flo-Corp level and display solutions for its remote tank monitoring system. Flo-Corp's EchoPod Plus™ multi-function level sensor is being used in combination with DigaCom™ universal process display to accurately monitor and control the level of zero trans fat cooking oil within the retailer's storage tanks.
As the food industry rapidly converts from standard, high trans fat cooking oil to zero trans fat cooking oil, the demand for non-contacting technology continues to grow. This trend is a direct result of the unexpected issues tank operators are facing due to the malfunctioning of the traditional float level monitoring systems.
"When the food industry switched to zero trans fat cooking oil, we learned that a number of tank operators were noticing a heavy accumulation of grease buildup on their traditional float level monitoring systems. Thus weighing down the float, and creating inaccurate tank level readings," said Raymond Nichols, Project Manager at Flow Line Options. "What we have done to eliminate this problem is incorporate our non-contacting EchoPod on the top of the holding tank. With the 4-20mA output of the EchoPod, we can accurately monitor the tank levels with Flo-Corp's new DigaCom universal process display."
The company's new DigaCom universal process display features advanced communications and innovative remote monitoring software, called DigaLink™. With DigaLink, the retailer will have the ability to connect to their network via Ethernet or RS-485 and remotely monitor real-time information, data log, and export critical information to excel. The monitoring software will automatically send e-mail alerts when tank levels exceed high limits. In addition to improving tank level accuracy, Flo-Corp's new technology will simplify the retailer's collection process by allowing grease collectors to remotely monitor tank levels and schedule a pick-up based on the results they are viewing.
"Our motivation for this project was to provide our customer with an affordable, yet extremely accurate tank level monitoring solution. This is the only tank level monitoring system of it's kind that combines Ethernet, monitoring software, and Modbus RS-485 -- all for one affordable price," said Dave Grumney, President of Flow Line Options.
About Flow Line Options Corp.
Flow Line Options is a leading manufacturer and supplier of advanced flow, level, and display instrumentation. The company's products include a variety of flow meters, level sensors, and digital displays. Flow Line Options latest innovation consists of a series of universal process displays that are infused with powerful microprocessors, embedded Ethernet and digital communications. The company was founded in 1988 and is headquartered in Northeast Ohio. For more information, visit Flow Line Options' website at flowlineoptions.com, or call 877-356-5463.
###