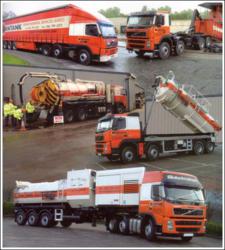 Industrial cleaning is a no nonsense business, our visitors don't want to wait around and we don't expect them to.
Bolton, Lancashire (PRWEB) July 20, 2011
Mantank, one of the UK's leading industrial cleaning and environmental services contractors with specialties in tank cleaning, dewatering and plant decommissioning has this week launched a new website to further build on its growing web presence. Apart from 'word of mouth', internet marketing is currently Mantanks only advertising, which it has been developing over the last year to 18 months. Traffic to its corporate website has increased 234% on the same month 1 year ago with a significant increase being organic searches. The site has been moved on to a high speed dedicated server with a large burst capacity in order to handle more concurrent users. "We want all our visitors to get to their pages of interest without delay regardless of the number of users visiting us at any one time", a company spokesman stated. "Industrial cleaning is a no nonsense business, our visitors don't want to wait around and we don't expect them to".
While all that internet geek speak is fine, the website is required to turn browsers into customers and hence the new image and user experience. The new site offers;

A clear branding and identity different from competing environmental services businesses.
Focus on the core industrial cleaning services offered
Easy browsing with all pages only 3 clicks away
Improved server response times and search engine optimization.
"Improving our organic search engine positions was a key driver; clearly it allows us to refocus our marketing budget." says Mantank's spokesperson. A new website structure and framework has been implemented with emphasis on the business' core service offerings and a focus on improving search engine positions for 8 key phrases link to their core business. Last month, when compared with the same month a year ago, Mantank has seen its organic searches rise by 10%. Since this was the 1st trial month, the company is watching how the newly spidered results are interpreted by the search engines over the 3 month test phase.
Mantanks principle corporate colour is orange. With this in mind, it opted for a dark charcoal background to more clearly highlight its company logo and importantly to distinguish itself from competing company websites. Most environmental services companies go with a white and green look so Mantank decided on something quite distinct. The new colours are not only memorable but make reading the pages more comfortable and sharpen the images. During the trial phase on the new design, the bounce rate dropped 40%, the number of pages viewed by organic visitors has risen 114% to 5.1 with an increase of 337% reaching the contact page.
Focusing on the core business streams has been a key requirement in the redesign while providing quick access to the supporting services. The core businesses are Industrial Cleaning Services, Tank Cleaning, Dewartering & Filter Press Hire and Plant Decommissioning.
Industrial Cleaning Services encompasses the managed solutions Mantank offers its larger clients who require a one stop supplier for their cleaning requirements. From the initial project planning, risk assessments and any required Environmental Agency approvals to the work itself including the management of subcontractors, restoration and land remediation to responsible waste disposal, Mantank offers complete or partly manages solutions.
Tank Cleaning forms a cornerstone in Mantanks service offering. In fact, Mantank are tank cleaning specialists. Whatever the tank shape or size and regardless of the contents whether they be acids, alkaline, flammables or toxins, Mantanks manages services team are capable of custom designing a solution for any tank cleaning requirements.
Dewatering, which includes Filter Press Hire forms another important cornerstone in Mantanks industrial cleaning solution set. Dewatering is an important waste reduction treatment that provides a cost effective and environmentally friendly method of reducing the amount of waste requiring disposal. The role of the modern day filter press is to remove the solids from the sludge and change it into a dry filter cake. The filtrate can then either be re-used on-site or disposed of to drain. This significantly reduces the amount of waste to be disposed of, reduces disposal costs and imparts less impact on the local environment by returning fresh water. Whether it's at the back end of tank cleaning, a necessary requirement in plant decommissioning or in its own right, dewating has become an important environmental service.
Plant Decommissioning is clearly a specialist job requiring a fully capable company and management team. Depending on the plants history, it decommissioning can be fraught with danger and toxic hazards. Mantank offers a complete plant decommissioning service fully capable of carrying out the clearance and cleaning of redundant industrial sites. From site cleaning including tank cleaning, sludge removal and dewatering to toxic waste removal and haulage to land remediation, Mantank has the capacity and capability in-house. Mantank has perfected a number of techniques to successfully decommission plant including experienced management to conduct and oversee successful project execution.
Ultimately it's not easy to see how much business is generated from having a successful website but as is common now, having a website is the standard and having a good website may just tip the balance in a purchasing decision. As Mantank looks to further grow its industrial cleaning client base, organically generated visitors and their movements around the site will be watched carefully.
Mantank Environmental Services Limited was established in 1995 to provide a wide range of high quality industrial cleaning solutions to both large and small companies in the chemical and petrochemical sectors. Mantank's business is specific to industrial waste management solutions from tank cleaning & dewatering to plant decommissioning & land remediation. Mantank's many complete industrial cleaning packages utilize management expertise, skills and resources to ensure the most cost effective solution for each client's needs.
Mantank has chosen MK Web Services as its website management partner. MK Web Services provides high speed hosting, website management and Search Engine Optimization (SEO) Services.
###