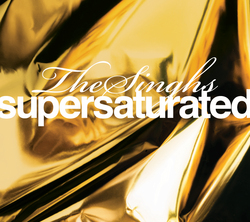 We needed to brand both the album as well as the new band name
Cambridge, MA (PRWEB) September 17, 2008
Tank Design, a strategic branding and design firm based in Cambridge, MA has partnered with independent music label Redstar Entertainment to create the visual brand language for The Singhs and their latest album Supersaturated.
"In creating the elements for Supersaturated, we wanted to literally drape the whole album in slick, sophisticated wrapping," said Tank Design's creative director David Warren. The new branding is very much in line with the more pop sensibilities of this third album from The Singhs, which has rich musical textures and rock underpinnings, harkening back to the 80's music of Robert Palmer and Roxy Music. The lush imagery includes gold wrapped guitars and drum kits, as well as the beautiful, exotic women often referred to in the album's lyrics.
"We needed to brand both the album as well as the new band name," said the band's founder Miki Singh, "in addition to which, we had an album on our hands that was quite different musically from our past ones. Tank, as they have so often in the past, very successfully captured the spirit and intent of our work and gave it a breathtakingly beautiful physical existence, so rare in these days of downloads and purely digital media."
Originally assembled as Dragonfly in 2001, the band reached out to Tank for a brand overhaul when the band needed to be reborn as The Singhs -- a more distinct and internationally unique name when they realized multiple "Dragonfly" bands existed already. Led by singer Miki Singh and renowned Boston guitarist Peter Parcek, the band also includes veteran keyboardist and DJ Brother Cleve (The Del Fuegos, Combustible Edison), drummer Steve Scully (James Taylor, Juliana Hatfield, Letters to Cleo), and bassist Marc Hickox (Peter Parcek, Trio, Lucky Stereo). The primarily Boston-based band has arranged, recorded, and performed at venues all over the world, including Morocco, The Maldives, India, France, The Netherlands, French West Indies, and the United States.
"Supersaturated" was primarily recorded in the West Indies, with final mixes and mastering done in Boston and New York City. It is currently available on iTunes, Amazon, and CD Baby. Previous releases include the double album The Edge of the World (2001) and Blind (2003), all designed by Tank for Redstar Entertainment. Tank has also worked closely with Razor and Tie on the album This Bird has Flown, A 40th Anniversary Tribute to The Beatles' Rubber Soul.
Tank is a design firm that integrates strategy, design and technology to help companies create memorable and meaningful brand expressions through a multi-disciplinary, hands-on approach. Founded in 1994, Tank has provided award-winning work for some of the world's most recognizable brands in the US and abroad; their work ranges from complete brand development to fresh thinking on design challenges within an established brand. All clients enjoy Tank's ability to explore, discover and deliver original, effective design and technology solutions. Tank is based on Cambridge MA and New York, NY. Clients include FedEx, MIT, Puma, Symantec, and Via Spiga. For more information, please visit http://www.tankdesign.com.
Redstar Entertainment represents artists and manages events that present a cross-cultural and international character. The company's roster includes rock, pop and international artists. The label has been distributed in Asia by Sony/BMG and in Europe by Absolute/Universal Music Group. Redstar services include marketing, design, manufacturing, and on-line distribution and promotional services. More information about Redstar Entertainment can be found at http://www.redstarentertainment.net. More band information including videos and audio tracks are available at http://www.thesinghsband.com as well as at http://www.myspace.com/thesinghs.
###