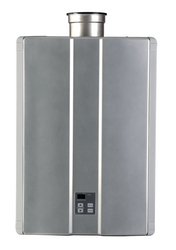 At Rinnai, we're dedicated to developing gas heating appliances that improve a homeowner's life, and we accomplish this by offering them increased comfort, convenience, energy cost savings and space savings through our energy-efficient products
Peachtree City, Ga. (Vocus) October 14, 2009
Rinnai Corporation, manufacturer of the number one selling brand of tankless gas water heaters in North America, introduced new condensing tankless water heaters and condensing wall-mounted boilers this past September. These new products incorporate condensing water heating technology for superior energy-efficiency and supreme performance. Rinnai's new condensing tankless water heaters and wall-mounted boilers recapture residual heat from flue gases and transfers it into the water being heated. The company's foray into condensing water heater technology is further evidence of Rinnai's ongoing commitment to providing the latest and most advanced home heating and tankless water heating solutions to consumers.
"At Rinnai, we're dedicated to developing gas heating appliances that improve a homeowner's life, and we accomplish this by offering them increased comfort, convenience, energy cost savings and space savings through our energy-efficient products," said Phil Weeks, general manager of Rinnai America Corporation. "The addition of the new condensing tankless water heaters and boilers to our product portfolio enables us to offer consumers a wider range of energy saving technologies, which helps to ensure that each home receives the right solution to meet its individual needs."
Rinnai® Condensing Tankless Water Heaters
Rinnai's condensing water heating technology offers all of the lifestyle benefits of traditional tankless water heaters--including continuous hot water and the ability to run multiple hot water appliances at the same time--coupled with even greater energy savings. Rinnai's unique condensing design incorporates two innovative heat exchangers to achieve optimum water heating value from every cubic foot of natural gas or propane, and the units are ENERGY STAR® qualified. The condensing process delivers up to 95 percent thermal efficiency, which translates to significant energy savings when compared to traditional gas tank water heaters. Available in four models, the condensing tankless water heaters are designed to meet the needs of mid- to large-sized homes and can be banked for even greater capacity. Like all Rinnai® tankless water heaters, the condensing tankless water heaters contain commercial grade heat exchangers, making them an ideal choice for both residential and commercial applications.
In addition to the units' lifestyle and energy saving benefits, the Rinnai condensing tankless water heaters utilize a unique concentric venting system that is specifically designed for gas appliance venting. This results in an overall safer and easier-to-install product. The concentric venting design is a safer option for consumers due to the use of a polypropylene inner pipe, which is designed to withstand varying flue temperature conditions that may be experienced over the life of a product. Also, since Rinnai's concentric venting system uses just one pipe that is fit and locked into place without glues or solvents with expandable gasket seals at pipe joints, the risk of gaps is virtually eliminated, further contributing to the safety of the system; plus, installers appreciate the simplified, quicker installation afforded by the single pipe.
Rinnai Condensing Wall-Mounted Boilers
Rinnai's new wall-mounted boilers use condensing technology to heat an entire home and provide domestic hot water, while operating at up to a 96.5 percent AFUE efficiency. The units are ENERGY STAR® qualified and use considerably less energy than a traditional gas boiler. Rinnai's condensing boiler units are easily retrofitted to replace traditional, less efficient boilers or can be used in new construction to provide simple, space-saving installations in new homes, and all seven models feature Rinnai's exclusively designed stainless steel heat exchanger to deliver unparalleled performance and efficiency.
To meet a consumer's individual application needs, the boiler units are available in two series--the Rinnai E Series, which is designed for homes with small domestic hot water requirements, and the Q Series, which works in all homes, even those where more substantial demands call for zone heating. The E Series uses an integrated single-speed pump and expansion tank to supply a home with heat as well as hot water. Units in the Q Series feature a fully modulating pump, making them some of the highest efficiency units on the market. The Q Series includes four heating-only models plus a combination unit that also supplies domestic hot water.
Rinnai will be exhibiting its new condensing tankless water heaters and condensing wall-mounted boilers at PHCC Connect 2009, the Plumbing-Heating-Cooling Contractors -- National Association's annual convention. The products will be displayed in the Rinnai booth (#234/135) during the convention's Product and Technology Showcase at the Sheraton New Orleans on October 22. For more information about Rinnai, visit http://www.rinnai.us.
About Rinnai
Rinnai America Corporation, a subsidiary of Rinnai Corporation in Nagoya, Japan, was established in 1974 and is headquartered in Peachtree City, Ga. Rinnai Corporation manufactures gas appliances including tankless water heaters, a wide range of kitchen appliances and heating and air conditioning units. As the technology leader in its industry, Rinnai is the largest gas appliance manufacturer in Japan and is the number one selling brand of tankless gas water heaters in North America. Annual corporate revenues, including those of its subsidiaries, are in excess of $2.5 billion. With a global perspective to create 21st century products for the home and business, Rinnai Corporation commits itself to safety and the pursuit of comfortable lifestyles. For more information about the Rinnai Corporation and their entire tankless water heater product line, visit http://www.rinnai.us/tankless/
###