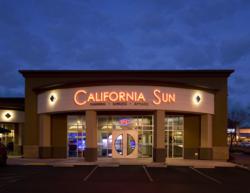 We are focused on quality over quantity, guest experiences and stability in an ever changing economic environment.
Roseville, CA (PRWEB) May 04, 2013
California Sun, a well-known tanning salon brand in Northern California and Nevada, has recently reached its 20th Year Anniversary. To celebrate, they have opened new store locations to better serve their customers and have announced several events, including one with Jersey Shore star Jenni "JWOWW" Farley.
California Sun's newest location is at 7485 Rush River Drive in the Promenade Shopping Center in Sacramento's Pocket Area. Other store openings are expected in the near future, offering several more convenient locations for customers.
California Sun will also be hosting special events with Jenni Farley, known as as JWOWW to reality television viewers. She will appear May 18, 2013 at the Natomas California Sun location at 2765 Del Paso Rd. in the Safeway shopping center. From 10 am - 2pm, JWOWW will be signing autographs, and California Sun fans can win thousands of dollars in giveaways of free lotion, products, and more. JWOWW will follow up her appearance by attending California Sun's huge 20-year celebration at Social Nightclub that same evening. The party begins at 10 pm at 1000 K Street in downtown Sacramento.
Unlike other tanning salons, California Sun is not a franchise and is family-owned and operated. Its first location opened in 1993 in Placer County, California. Today, California Sun has spread to seven counties in two states, with more on the way.
California Sun conducts well over a million tanning sessions per year and is widely recognized as the best tanning salon chain in the nation. It has been voted "Best" salon year after year by consumers and has been consistently featured by trade organizations. California Sun CEO Michael Blore explains, "Our goal at California Sun has never been to be the largest chain, nor the company in the most locations. We are focused on quality over quantity, guest experiences and stability in an ever changing economic environment. We may invest far more in our customers in the short term; however, they have responded by their commitment to the California Sun brand."
To learn more about California Sun and their tanning services and specials, call 1-877-272-8267, go to http://californiasun.com or visit one of their locations.
About California Sun
California Sun is committed to providing Affordable Luxury through State of the Art Equipment and Fabulous Salons. With dozens of locations hosting an assortment of tanning beds, appointments are never necessary.
California Sun features the industry's finest tanning salons and offers a wide variety of services and equipment, including a large range of tanning beds, booths, spray tans and Sunless Tanning. Tanning beds are always professionally cleaned immediately following a session and luxurious towels and peppermints are just an added benefit to guests.
California Sun is anything but your average tanning salon and strives to be a vital part of your Sexy, Fun and Healthy Lifestyle. For more information, visit http://californiasun.com