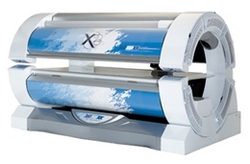 The Heartland staff is known for their knowledge and expertise regarding tanning beds and other tanning merchandise. As a result, the industry has come to expect the very best from these expos. Our staff not only gives clients great demonstrations of the various products but they are also ready to provide expert advice on various tanning related questions
Nashville, TN (PRWEB) September 24, 2009
Heartland Tanning, a tanning salon superstore specializing in tanning beds and other tanning supplies has announced the dates and details for a series of expo shows to be held in late 2009 and continuing through early 2010.
The two-day tanning expos will not only have tanning beds for sale, but will also feature the variety of tanning resources that Heartland Tanning staff have become well known for providing over the last few years.
Heartland Tanning is a nationally renowned commercial tanning bed wholesaler, specializing in top brand tanning beds from across the country. The firm not only provides top quality beds to clients, but also custom builds beds according to client specifications when necessary. In addition, Heartland Tanning is also a leading wholesaler of a variety of other tanning goods and supplies.
"The Heartland staff is known for their knowledge and expertise regarding tanning beds and other tanning merchandise. As a result, the industry has come to expect the very best from these expos. Our staff not only gives clients great demonstrations of the various products but they are also ready to provide expert advice on various tanning related questions," says Greg Henson of Heartland Tanning.
The Heartland expos will also be accompanied by 5 regional training sessions which will be hosted by corporate trainer, Gary Meunier. Each regional event will feature top-notch educational training, and various industry products and tools. Educational seminars will feature well-respected industry professionals offering invaluable advice on topics including but not limited to effective merchandising of products, marketing, selling strategies and retail sales.
"These expos are a great way to find various tanning needs under one roof as we have many more brands than any other expo in the country. It is also a great chance for tanning industry professionals to extend their educational training and network with others in the field," concludes Henson.
The various vendors participating in the 2009/2010 Heartland Tanning Expos will include Designer Skin, Australian Gold, Swedish Beauty, Supre, Fiji Blend, Synergy Tan, Pro Tan, Eye Pro and several other industry-leading brands.
The first expo will be held in Denver, Colorado, in November with the series wrapping up in Rancho Cordova, California, in February. Some of the other locations for the expos are Ft. Worth, Texas, Columbus, Ohio, Atlanta, Georgia, and a few others. Further details regarding exact dates and venues for the various events can be found on the Heartland Tanning Web site.
About Heartland Tan:
Heartland Tanning (http://www.tanamerica.com/) is a leading superstore for tanning salons retailing tanning beds, equipment, lotions, merchandise and other tanning supplies. The company carries the most popular tanning beds available on the market and also custom builds beds for its clients.
###