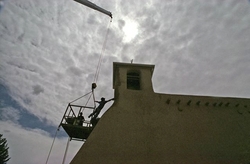 Taos, NM (Vocus) May 26, 2010
This summer, as part of Taos' "Return to Sacred Places" travel education theme, the Taos Festival of Art and Architecture offers visitors an intimate glimpse into the sacred art and architecture at the heart of this magical region.
The Festival's signature event is the yearly re-mudding of the San Francisco de Asis Church. Since the adobe church in the Spanish Mission style was completed in 1815, each year a layer of mud plaster mixed with straw is applied to its massive-yet-fragile skin to protect it from the elements.
Winter snows and Spring winds often damage and deteriorate the mud that covers the thick adobe walls, and if not repaired, moisture can seep into cracks and weaken them. For churches not so rigorously cared for in this part of the world, the consequences can be devastating.
This year not only are parishioners invited to participate but also an army of volunteers will be welcomed from the community at large to participate in the annual enjarre or mud-plastering. The mudding gives participants an idea of what it took to build the church over a 40-year period some 200 years ago.
Constructed of thousands of hand-made adobe bricks, the church is built in the shape of a cross, with massive four-foot thick walls and enormous buttresses on its west end. The roof, also made of mud and ceiling planks, is supported by some 30 beams, or vigas, up to 32-feet in length and weighing 600-700 lbs each.
But the Church is more than a physical structure, for it holds on its surface the community's history -- generations of hands plastering and re-plastering the adobe walls. For many Taosenos, the Ranchos Church provides a place of worship on Sundays and holidays; for others it provides a sense of permanence: the comfort of a cultural icon in their midst, a real and durable anchor in the landscape.
The re-mudding will take place between June 7 and June 18, but exact dates may vary according to weather and other conditions.
Those interested in participating should understand that the parishioners who are normally in charge of the re-mudding are only interested in people who are willing to make a real commitment to "do the work." The re-mudding involves a process and technique that requires some training and expertise. If mudding seems like too much of a time commitment, volunteers are also needed to carry water, feed the workers, etc. For more information and to get involved call the Church Office at 575.758.2754.
TAOS FESTIVAL OF ART & ARCHITECTURE EVENTS
Now through June 13
A juried exhibition of paintings and photographs, "A Humble Masterpiece: San Francisco de Asis Church" will hang in the Encore Gallery of the Taos Community Auditorium. For information: 575.758.2052.
Saturday May 29
A Taos "living treasure," Larry Torres, will host two tours of "Ten Taos Valley Adobe Churches and Moradas." Mr. Torres is the preeminent scholar in his field and this is a rare opportunity for truly authentic Taos experience. Tours will leave Town Hall at 10 am and 2 pm. $20 per person. For more information: 575.751.0647.
Friday, June 4 at 8 pm
At the Encore Gallery of the Taos Community Auditorium, the Festival continues with "The Glory of Adobe," an evening of films, lectures, and a multimedia show of artwork inspired by the Ranchos Church, and presentations by the craftsmen who have maintained the church and created religious icons. Admission is $10 for adults. For information: 575.758.2052.
Friday, June 4
Kimosabe, a shop full of vintage Western Americana just off Taos Historic Plaza, will feature fine examples of WPA (Works Progress Administration) furniture. A significant amount of this furniture, made in Taos between 1935 and 1943, will be on display from June 3 - 13. Opening reception June 4 from 4 to 6 pm.
Saturday, June 5
"The Next Step," a musical program, sponsored by the Taos Chamber Music Group is a dynamic, multi-media program that includes the world premier of Edie Hill's composition "Return to Sacred Places," David Lang's "Sweet Air" accompanied by a film by Jake Magee, Michael Torke's "Telephone Book," Hill's "This Floating World," based on Haiku poems, and Paul Moravec's "Tempest Fantasy," inspired by the Shakespeare play. 7:30 pm, at the TCA. For ticket and other information, call 575.758.2052. http://www.taoschambermusicgroup.org.
Saturday, June 5
From 1:30 - 3:30 p.m., the Taos Library is sponsoring a free lecture, "San Francisco de Asis Church - Ranchos de Taos" by Taos historian David Maes. "For over two hundred years, the Church has served as the heart and soul of the Ranchos community. Thousands of visitors travel to this sacred place to gaze at the Church's sloping buttresses and to connect spiritually with our past and future." Come and learn why this is the case -- historically, currently, and for the future. For more information please call 575.758.3063.
Saturday, June 12
From 10:30 am to 12:30 pm the Town of Taos Public Library, will offer a free lecture and photographic presentation, "Heritage and History: The Camposantos of Taos," by Harvey Solomon, Taos historian, and Ron Reinikainen, Librarian. This presentation is about Taos area camposantos, many of which are in lovely settings close to moradas and oratorias, and include simple rock markers inscribed only with a cross dating back to early Hispanic colonization.
Saturday, June 12
Resident Danish architect and artist, David Vedoe exhibits a range of visual art expressing his architectural style, combining Northern New Mexico vernaculars with the possibility of natural abundance and personal contentment in the 21st century. Vedoe will discuss his drawings and paintings at the Artist's Reception at Cafe Loka on Saturday, June 12 beginning at 2 pm. Vedoe's work can be viewed at Cafe Loka from May 18 - June 25. art-architecture.blogspot.com
###