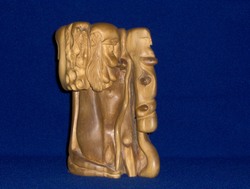 At first I followed the more primitive style my grandfather was known for but now I feel my work is more refined.
Taos, NM (Vocus) June 29, 2010
Award winning woodcarver and Taos native, Carlos Barela, will be a featured artist in July at the Taos Art Gallery, with an artist Art Walk reception for him on Saturday, July 3 from 4 to 7 p.m. Barela is the eldest grandson of well known 1930's artist, Patrocinio Barela, known for his stylized cedar and pine carved sculptures that were exhibited and collected by the Museum of Modern Art in New York City.
When he initially started his career as an artist at age 33, Barela was unsure of what exactly to carve first and, inspired by God Himself, he decided to start with carvings depicting Adam and Eve and their story as told in the Bible.
Barela has received many awards for his numerous carvings since then, including the first ever "New Directions" award by the Spanish Colonial Arts Society in 2008, for his rendering of the "First Fall."
"When working in wood, or stone, I feel that I form a partnership with nature," Barela said. "The wood speaks to me through this form, its shape and its grain. I release what's in the piece of wood; I don't dictate but rather manipulate its nature to achieve the spirit within. It seems only natural that what evolves must be influenced by my life experiences, not those of my ancestors, although that influence is still there, and so as my life has taken on a new direction then it follows that so has my art. I believe this must be true for all artists."
Barela added that, carrying on the legacy and traditions of his famous grandfather "is important for future generations so they learn their heritage and can honor who they are."
"At first I followed the more primitive style my grandfather was known for but now I feel my work is more refined," Barela explained. "Like my grandfather, I work with a solid piece of wood but I have taken that technique and applied it to other mediums. Being a self taught artist, and living and working among so many other artists all my life, encouraged me to try other mediums too. For example my good friend, John Suazo, once carved only in wood but is now world renowned for his stone work – John encouraged me to try stone and as a result I won Best of Sculpture at the AnnualTaos Fall Arts Festival, Taos Invites Taos in 2007."
In August 2009, the Town of Taos was designated as an Arts and Cultural District, which Barela feels is important so as to preserve the essence of Taos as an art colony.
"It is refreshing to see that New Mexico has finally realized and recognized that it is in its best interest to keep Taos as a historical destination. We should be proud of our heritage, our traditions and our culture. It is what makes Taos, Taos. I remember as a child what it felt like when my cousins visited from Utah in the summer and I was asked to take them to the museums. We were able to play in the grounds and I could proudly show them my grandfather's work on display in the windows at the library, now the Harwood Museum of Art. Today I feel that same sense of pride when I take my own grandchildren and can show them the work of their great-great grandfather at the Harwood and Millicent Rogers Museums."
Barela, in coordination with the Taos Art Experiences group, is offering two opportunities for interested amateur woodcarvers to work with him from August 1 through 6 and September 5 through 10, as part of the Taos Art Experiences program (http://www.taosexperience.com).
Barela's work can be seen throughout the month of July at the Taos Gallery, located at 133 Bent Street.
For more information on the upcoming Exhibit or to sign up for the Taos Art Experience with Barela, contact Director Jan Mellor at jan(at)thetaosgallery(dot)com or (575) 758-3911. Or visit http://www.thetaosgallery.com.
# # #