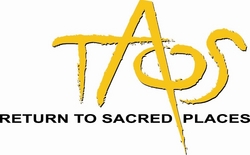 Taos, NM (Vocus) June 18, 2010
It is estimated that there are currently more artists per capita in the Town of Taos than in any other city in the world. That's why the LeDoux Art Stroll, held on the third Saturday of each month during the summer, is the best way for art collectors and art lovers alike to meet the local artists and enjoy the best of Taos' artist community.
In addition to art galleries, the well known LeDoux Street is home to the historic Blumenschein House (222 LeDoux St) and the Harwood Museum of Art (238 LeDoux St), often referred to as the "jewel in the crown" of Northern New Mexico.
Those participating in the LeDoux Art Stroll will have the chance to visit the historic museums, chic galleries and funky shops along the way. After the Stroll, visitors can shop Taos Plaza, enjoy dinner at a nearby authentic Taos restaurant, and enjoy a relaxing evening in any number of hotels or bed and breakfasts in Taos.
The LeDoux Art Stroll summer schedule will be scheduled from 3 p.m. to 5 p.m. on the following dates: Saturday, June 19th, Saturday, July 17th and Saturday, August 21st.
After the June 19th Stroll, the 203 Fine Art Gallery will host an artist reception from 5 p.m. to 7 p.m. featuring "Taos Modernist-Paintings and Drawings" by artist John DePuy. The Exhibition will be on display through July 19th, and will directly benefit the Harwood Museum's Children's Education in the Arts program.
The 203 Fine Art Gallery is located at 203 LeDoux St Taos, NM. For more information on the Exhibition visit http://www.203fineart.com.
Ledoux street is located just southwest of Taos Plaza, in the exclusive art neighborhood. For information on the LeDoux Street Stroll, call (575) 751-1262 or visit http://www.taossacredplaces.com.
Contact:
Erica Asmus-Otero
(505) 259-2202
###