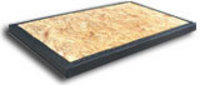 I am trying to equip tap dancers with everything they need to be inspired and encouraged in their love of tap.
Atlanta, GA (PRWEB) July 15, 2010
PortableTapFloor.com, which sells an innovative mobile surface for tap dancing, is pleased to announce its one-year anniversary. To celebrate this milestone, the Atlanta-based retail site is offering a variety of specials to promote its "perfect" portable tap floor.
Anyone who purchases a portable tap floor from the Website during the month of August will receive two instructional DVDs—Improvisation and Tap Speed—featuring professional tap performer and teacher Terrence "Taps". Customers will also receive a lifetime membership to the online tap lessons at http://www.eTapDance.com. In addition, two lucky customers will be randomly selected to win a 2GB iPod Shuffle.
The special promotions are being offered to not only commemorate the successful first year of PortableTapFloor.com, but to also give tap enthusiasts enhanced access to the company's distinctive product. The company's tap floors are super lightweight, shock absorbent and easy to transport—as well as affordable. They are the ideal piece of equipment for students, teachers and even professional performers who need an instant tap floor at their disposal. "I am trying to equip tap dancers with everything they need to be inspired and encouraged in their love of tap," Terrence Taps said.
A love for tap is what motivated Taps to develop his unique portable tap floor. He wanted a tap floor product that could be easily moved to different locations for teaching, practicing and other purposes. After many years of researching and testing, Taps created a perfectly-balanced tap floor product that not only transports well, but also sounds great. Although he holds a bachelor's degree in accounting from Morehouse College and a master's in counseling, Taps' passion is tap dancing. "I am focused on tap, as I feel it is what I was put here to do," he said.
The portable tap floor is available in two sizes: small and large. The small size is 30 by 48 inches and weighs just 23 pounds. The large size is 36 by 48 inches and weighs 26 pounds. The small and large tap boards are priced at $119 and $139, respectively, and can be shipped anywhere in the continental United States for a flat fee of $30. To view an illustrative video and learn more about the product, please visit http://www.PortableTapFloor.com. For more information about Taps' professional services and background, visit http://www.TapDanceMan.com.
About Terrence Taps
Terrence Taps is a professional tap dancer, product developer and entrepreneur. Taps has extensive experience as a tap teacher, choreographer and performer. He has performed more than 150 shows as part of the dynamic tap dancing duo known as "Tip Tap Two" in association with the prestigious Woodruff Arts Center's Young Audiences program. He has also appeared at special events, such as the Caribbean International Literary Festival in Antigua, the National Association of Energy Distributors Trade Show, and the Sphatika Launch in the world famous "Rainbow Room" atop 30 Rockefeller Center. Additionally, Taps authors a blog about tap, records a tap podcast featuring interviews with master dancers and teachers, and teaches tap online at eTapDance.com. Recently, he launched a tap company geared for youth. Based near Atlanta, Taps is the owner of Tapman Consulting and PortableTapFloor.com.
###