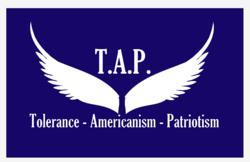 "Tolerance is about respecting someone based on character rather than race, gender, sexual identity, religion, politics, and economics. It is about understanding the humanity and differences of our people," said Stephanie Adams, COO of TAP America
Seattle, WA (Vocus/PRWEB) March 22, 2011
TAP America, a non-profit organization dedicated to strengthening America and its citizens, today announced a campaign to promote tolerance in America through education. TAPamerica.org now contains resources to give people the tools necessary to learn about different cultures, races and ways of life through meeting new people, reading books and watching evocative movies. As part of their pledge, TAP America encourages people to practice an act of tolerance each week and this comes at a time when this is much needed within America.
According to the 2009 annual Department of Justice report on Hate Crime, 48.4% of hate crimes were motivated by racial bias, followed by religious bias (19.7%) and sexual orientation bias (18.5%). Approximately 71.3% of racial bias was anti-black, while 17% were anti-white and about 71.4% of religious bias was anti-Jewish. Also, 55.7% of all sexual orientation bias were directed against homosexual males.
"These figures are indeed startling but we also must remember that these numbers are under-representative of hate crimes in America because only one-third of victims report hate crimes to the authorities," said Richard L. Tso, Executive Director of TAP America. "While it takes courage to stand-up and admit you were a victim, our main mission with this tolerance campaign is to prevent these violent acts from occurring in the first place by educating people about our differences and highlighting what unites us as a collective."
The United Nations defines tolerance as the following:
"Tolerance is respect, acceptance and appreciation of the rich diversity of our world's cultures, our forms of expression and ways of being human. It is fostered by knowledge, openness, communication, and freedom of thought, conscience and belief. Tolerance is harmony in difference. It is not only a moral duty, it is also a political and legal requirement. Tolerance, the virtue that makes peace possible, contributes to the replacement of the culture of war by a culture of peace."
"With this, tolerance is about respecting someone based on character rather than race, gender, sexual identity, religion, politics, and economics. It is about understanding the humanity and differences of our people," said Stephanie Adams, COO of TAP America. "This is what makes America strong."
As part of this tolerance campaign, TAP America has begun to solicit feedback and support from national organizations like The Trevor Project, and Campus Tolerance. The TAP America website features famous quotes about tolerance from celebrities like Lady Gaga, Ke$ha, Michael Franti, Dave Matthews, Alex Rodriguez and others. If you would like to participate in this campaign, please send your quotes, videos and ideas to info(at)tapamerica(dot)org.
"As a nation, we have become divided and this distracts us from other issues both foreign and domestic," said Mark Bloome, Founder of TAP America. "As the famous saying goes, 'Every Kingdom against itself will be ruined, and every city or household divided against itself will not stand.' We, as a country have been in a fit of intolerance and this weakens us. At the citizen-level, all too often, we as Americans associate the word tolerance with having to endure something or someone but in actuality, it means to accept and appreciate people as individuals, communities and states. We encourage people to practice tolerance each day to understand that we are all more similar than we are different."
For more information about TAP America, to volunteer or to make a donation, please visit http://www.tapamerica.org. Click here to take our free pledge now.
About TAP America
TAP America is a non-profit organization dedicated to revitalizing and strengthening America and its citizens. Founded in 2010, TAP embodies what it means to be American by promoting patriotism, tolerance and Americanism through education and multimedia educational programs. The tenets of TAP encourage people to be physically active, embrace equality and support the American economy by purchasing products made in America. TAP America Founder Mark Bloome created the organization out of love for his country and its people and a desire to promote patriotism, free from political and economic self-interest. For more information about TAP America or to volunteer please visit http://www.tapamerica.org.
Media Contact
Richard L. Tso
TAP America
Richard(at)tapamerica(dot)org
650.862.7952
# # #