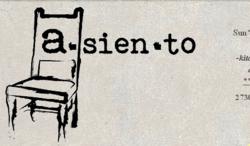 Be the first person in to help celebrate our anniversary on December 1 at 5pm and get your drink added to that day's 'Happy Hour Special lis
San Francisco, CA (PRWEB) December 01, 2011
Asiento, a neighborhood San Francisco bar serving tapas, is celebrating its first anniversary on Thursday, December 1 at 5pm and will continue with drink and tapas specials throughout the weekend. The Thursday party features live duos and DJs and will be highlighted by a complimentary sparkling toast at midnight, party goes until 2 am.
Fans of Asiento on Facebook can like the restaurant's page for a complimentary cocktail. The event runs through the weekend with some surprise events and will culminate on Monday with Brainstormer, their weekly Trivia night. Brainstormer is a professionally run trivia night with great prizes, drink specials and other giveaways.
Asiento is a neighborhood bar that serves Tapas and offers a winning combination of live entertainment and tasty dishes with a friendly staff that serves up simple, yet fresh cocktails for their faithful clientele. More than just an average bar, Asiento is equipped with the staff and accommodations for large party dining without the restaurant commitment, guests can come and go as they please, run their own tabs at the bar, and groups can avoid the large unruly bill at the end. They are well known for their unique Happy Hour offerings and they have the best kept secret Sunday Recovery brunch and Bloody Marys around.
"Be the first person in to help celebrate our anniversary on December 1 at 5pm and get your drink added to that day's 'Happy Hour Special list,'" says Debi Cohn of Asiento.
For more information on Asiento, call (415) 766-0238 or visit them online at http://www.asientosf.com. Asiento is located at 2730 21st Street San Francisco, CA 94110.
About Asiento
Asiento is a bar serving Tapas located in San Francisco's Mission District. They are known for their Chill welcoming vibe, Happy Hour specials, endless wine list and Sunday Recovery Best Brunch 11am till 4pm. They offer a casual relaxed environment where people can stop in for a drink and meet up with their neighbors or make new friends. The bar features San Francisco's finest local talent, ranging from the favorite neighborhood DJs to local bands each amplified by the bar's top of the line sound system.
# # #