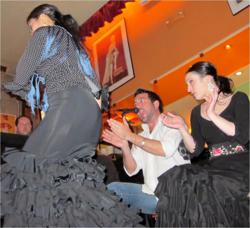 San Francisco, CA (Vocus/PRWEB) February 09, 2011
B44, the Spanish bistro from executive chef and native Catalonian Daniel Olivella, is a spot for authentic tapas, paella, and Spanish wine in San Francisco that feels more like a lively spot in Barcelona than a downtown restaurant. Now B44 brings a new level of authenticity and entertainment to Thursday nights by featuring live flamenco music and dancing performances from 7:30 to 10:00 pm on what they call "Duende Nights."
"We want people to come here and enjoy a nice dinner and have a real Spanish experience," said Jordi Olivella, general manager of B44. "This is one of the few real Spanish restaurants in the Bay Area and the only Catalan bistro."
Thursday night flamenco performances run for about ten minutes then break for twenty minutes in-between performances so guests can enjoy their meals and their companions. "This is a restaurant first," said Olivella. "Food and service are our first priorities."
Duende is a difficult-to-define word used in the Spanish arts, including performing arts. "Tener duende" ("having duende") can be loosely translated as "having soul"; a heightened state of emotion, expression and authenticity which is often connected with flamenco.
Flamenco dance is a highly expressive Spanish dance form. Flamenco is characterized by hand clapping; percussive footwork; and intricate hand, arm, and body movements. The steps a dancer performs are dependent on the traditions of the song being played. Perhaps the greatest joy of flamenco dancing is watching the personal expressions and emotions of the dancer, which change many times during a single performance.
For more information about Thursday night flamenco dancing at B44 or any of B44's other events and services, call them at (415) 675-8128 or view them online at http://www.sfb44.com, or visit the restaurant located at 44 Belden Place in San Francisco.
About B44 Catalan Bistro
B44 Catalan Bistro is a San Francisco tapas restaurant that specializes in tapas, Catalan cuisine and Spanish wine. The restaurant opened its doors in 1999 to rave reviews from local food critics and has been bestowed various honors over the years, including San Francisco's Rising star Chef of The Year and twice USA Today's Top 20 Dishes in America. Diners still crowd this downtown bistro to experience a little taste of Catalonia through Chef Daniel Olivella's dishes, which are always prepared with big heart. Tables outside in the Belden Place passageway under sparkling lights offer a magical setting for friends to gather for an evening of epicurean delight with the best outdoor dining in San Francisco.
About Chef Daniel Olivella
Executive chef and co-founder Daniel Olivella first fell in love with the cuisine of his native Catalonia as a young boy in Vilafranca del Penedés, a small city on the outskirts of Barcelona, and capital of the famous Penedés wine region. When he left for the United States at age 17, he took that passion with him, and worked his way up through notable restaurants, including La Paella in Chicago and Zuni Café, Delfina, Café Bastille, Thirsty Bear and Zazie San Francisco. He brings authentic tapas, Spanish wine and paella to San Francisco.
About Flamenco Dancing
With roots in Indian, Arabic, Spanish cultures, flamenco dance is known for its sweeping arm movements and rhythmic feet stomping. Flamenco dancers spend a great deal of time practicing and perfecting the often difficult dance. Although there is no single flamenco dance, dancers must follow a strict framework of rhythmic patterns.
###