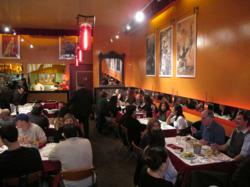 "We think that many couples won't have the chance to celebrate Valentine's Day on Monday for different reasons. So we will be serving special Food, Love and Passion Menu items on Saturday and Sunday.
San Francisco, CA (Vocus/PRWEB) February 11, 2011
B44, the Spanish bistro from executive chef and native Catalonian Daniel Olivella, will be helping lovers celebrate this weekend by hosting a special Valentine's dinner in San Francisco. Olivella will serve intimate dishes from his Food, Love and Passion Menu and live romantic guitar music will play on Sunday evening. A giant tent will be draped over all of Belden Place on Monday, casting a romantic spell over the whole alley.
B44 is located at 44 Belden Place in downtown San Francisco. They serve authentic tapas and paella, and are one of the only restaurants that serve Spanish wine in San Francisco. The Catalan bistro feels more like a lively spot in Barcelona than a downtown San Francisco restaurant.
"We think that many couples won't have the chance to celebrate Valentine's Day on Monday for different reasons," said Jordi Olivella, general manager of B44, "So we will be serving special Food, Love and Passion Menu items on Saturday and Sunday." With B44 expanding Valentine's Day services to customers on Saturday and Sunday, many couples will not have to worry about the inconveniences of celebrating the holiday on a work or school day such as Monday.
As one of the few Financial District restaurants open on Sunday, B44 is going all out to provide a romantic atmosphere for couples who prefer to celebrate the holiday on the weekend. They will feature the special menu with a starter, two courses, dessert and wine. A live flamenco guitarist will set the mood, and the authentic Spanish food will ignite the romance.
The special Food, Love and Passion Menu features dishes chosen for their quality, color, and seductive nature. Couples start with a glass of Gramona Grand Cuvee Cava and a Love shot of Gazpacho Salmorejo con virutas de jamon. First course items include choices such as Roasted Red beets with aurugula, goat cheese and walnut vinaigrette or Fire roasted piquillo peppers stuffed with Dungeness crab meat.
The second course choices include Arroz con Bogavante (saffron rice with Main lobster, aqua gem clams and caldereta stock) or Paella Romeo y Julieta (saffron rice, chorizo, chicken, shrimp, squid, mussels, clams and vegetables). For dessert, lovers can choose between the Pastel de cava con frambuesas (cava brut mousse, pistachio sponge and raspberries), Spanish Cheese Plate served with quince paste and fig bread, or the special Passion and Love Dessert. This prix fixe menu is $60 and will be served on Saturday, Sunday and Monday.
On Sunday and Monday, Chef Olivella gives guests a chance to fall in love with B44 with a selection of menu favorites. Lovers start with tapas like Ceviche B44 (white shrimp, octopus, scallop and tomato) or Escalivada (warm roasted vegetables, cabrales, pine nuts and roasted garlic oil). Main courses include Suquet de Rap (Atlantic monkfish, clams, mussels and pinenut tomato picada), a rack of lamb with potato panadera, roasted vegetables and P.X reduction, and a selection of sumptuous paelles.
Belden Place is an alleyway in downtown San Francisco which features a dozen upscale restaurants with indoor and outdoor dining. A big tent will be placed in the entire alleyway in order for give a cozy ambiance to restaurant customers for Valentine's Day dinner.
To make reservations for Valentine's Day dinner at B44, or for information about any of B44's other events and services, call them at (415) 675-8128 or view them online at http://www.sfb44.com, or visit the restaurant located at 44 Belden Place in San Francisco.
About B44 Catalan Bistro
B44 Catalan Bistro is a San Francisco tapas restaurant that specializes in tapas, Catalan cuisine and Spanish wine. The restaurant opened its doors in 1999 to rave reviews from local food critics and has been bestowed various honors over the years, including San Francisco's Rising star Chef of The Year and twice USA Today's Top 20 Dishes in America. Diners still crowd this downtown bistro to experience a little taste of Catalonia through Chef Daniel Olivella's dishes, which are always prepared with big heart. Tables outside in the Belden Place passageway under sparkling lights offer a magical setting for friends to gather for an evening of epicurean delight with the best outdoor dining in San Francisco.
About Chef Daniel Olivella
Executive chef and co-founder Daniel Olivella first fell in love with the cuisine of his native Catalonia as a young boy in Vilafranca del Penedés, a small city on the outskirts of Barcelona, and capital of the famous Penedés wine region. When he left for the United States at age 17, he took that passion with him, and worked his way up through notable restaurants, including La Paella in Chicago and Zuni Café, Delfina, Café Bastille, Thirsty Bear and Zazie San Francisco. He brings authentic tapas, Spanish wine and paella to San Francisco.
# # #